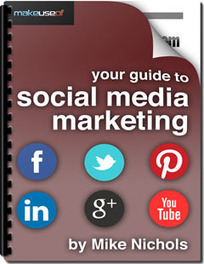 Want to start using Facebook to help grow your business, but don't know where to start? It's time to check out the latest free manual from MakeUseOf: "Your Guide To Social Media Marketing" by author Mike Nichols of YourZulu.com. It skips past the hype–no promises of quick millions here–and tries to show you practical ways to grow your business using the major social networks: Facebook, Twitter, Pinterest, LinkedIn, Google + and YouTube.
Businesses of all sizes are always looking to get the step up on their competition. Often, there are questions lingering over them about return on investment, sales, and customer retention. Right now, there is an onslaught of both people and companies turning to social media outlets. The competition is fierce, and no company can waste time or money doing it wrong.
It's necessary to take action, but how do you know what the right course of action is?