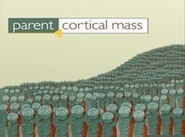 by Ava Arsaga, Parent Cortical Mass
There are so many strong articles and essays for parents this week, for a second I thought, "Too strong!" That was just a second, though.
Annie Murphy Paul's article on homework and Ellen Galinsky's piece on how to read to kids will pump up parent skills. ● But, the best essay in the bunch, by the brilliant Eric Kandel, a Nobel Prize winner for Medicine, is so graced with the ease of deep expertise, you'll come away feeling cozy with little chunks like Area 25, chromosome 7, copy number variation, and de novo...