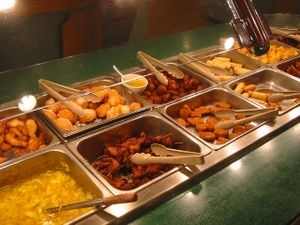 Photo credit: Wikipedia After much foot-dragging by the restaurant industry, a new rule requiring chain restaurants display calorie counts on their menus is taking effect in the latter half of this year.
In January I posted an article from the Huffington Post about the launch of "Halfsies" and now it appears to be taking action! Restaurant chains are being forced to display caloric contents of food but this doesn't mean customers will necessarily eat less. "Halfsies" can partner with these restaurants and they will then only serve 1/2 of the portion of food for the same price. Then, the restaurant remits the savings from serving less food to "Halfsies", which donates it 60 percent to local hunger charities and 40 percent to global food relief organizations.
Diners still indulge but eat less and can feel good about the charitable donation they're making - win win overall.
-Kelsey at www.kelseydickens.com
Via
Kelsey Dickens