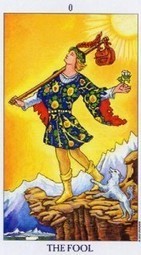 Arwen Lynch explores the Major Arcana through a fictional series as the Fool and his dog meet the archetypes.
Here's an excerpt for you from the Fool Meets Judgment:
Just as the sun blended its first ray with the horizon to create an amazing shade of orange, the Fool crested the top of a hill. He stumbled to a halt when he saw an Angel looming on the horizon. Behind the angel were humungous waves that seemed to be frozen. They almost looked like mountains to the Fool. The red wings spread out behind the angel who blew a trumpet that had the flag of St. George adorning it.
As the Fool watched, he realized he couldn't hear the trumpet. But beneath him, he saw a cemetary where the tops of the crypts were being tumbled aside. The dead were rising up! The Fool gasped in horror then realized that they all stretched their arms and faces up to the Angel. They didn't seem aware of him.
"They are not aware of you, Fool."
- read all of Arwen's series here:
Via
Laura Brown