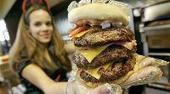 he Heart Attack Grill in Las Vegas is proud of its name.
It warns customers, "This establishment is bad for your health."
So this story may sound too good to be true: A customer at the restaurant, while eating a 6,000-calorie burger called the Triple Bypass Burger, was stricken with an apparent heart attack. And it was all caught on the cell phone video.