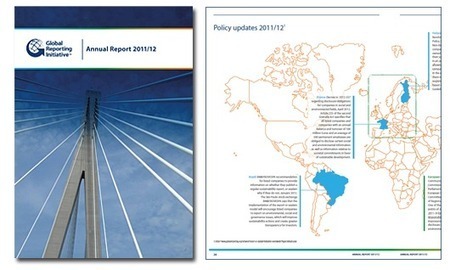 Policy will be crucial in making sustainability reporting standard practice, says global sustainability organization.
On Monday 5 November 2012, the Global Reporting Initiative (GRI) – which produces Guidelines that companies can use to report their sustainability performance - issues its Annual Report 2011/12. The report draws attention to significant developments in encouraging policy around sustainability reporting, and emphasizes the importance of policy in making sustainability reporting a standard business practice. In the report Ernst Ligteringen, GRI Chief Executive, stresses that "Policy and regulation could have a big impact on the uptake of sustainability reporting; a practice that can serve markets and society, and contribute to sustainable development."
Research published by KPMG (2011) highlights rises in the number of sustainability reporting companies in the Nordic region, France, South Africa, China and India, where regulation or government-led guidelines are in place.
Download the Report here:
https://www.globalreporting.org/information/news-and-press-center/Pages/Policy-will-be-crucial-in-making-sustainability-reporting-standard-practice-says-global-sustainability-organization.aspx