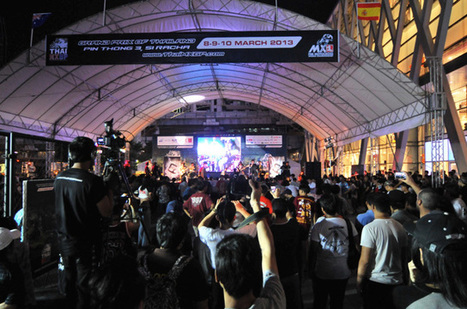 Official Presentation of the ThaiMXGP
By Nikki Scott | 21 Feb 2013

The official press conference and presentation of the first ever Thai Motocross Grand Prix took place at Central World mall in Bangkok last week. The three day extravaganza hosted a huge series of events including the Miss Thai MX GP modelling contest, live bands, sponsor displays along with introductions and interviews with famous actors, race car drivers, DJ's, organizers, VIP guests and last but not least the twelve Thai wildcard riders.

Over the weekend hundreds of bike fans, motocross fans, general public and media eagerly gathered to support and celebrate Thailand's embarkment on the FIM World Motocross Championship scene. Highlights included live performances from over fifteen rock bands that got the evening energy flowing as well as the crowning of the Miss Thai MX GP girl. Thai kids were also given a chance to ride their 50cc motorcycles around a specially built soil jumpy track allowing them to impressively flaunt their skills and take their claim to fame on the High-Streets of Bangkok.
Read more: http://www.motocrossmx1.com/?type=News&newsID=3229&title=Official+Presentation+of+the+Thai+MX+GP