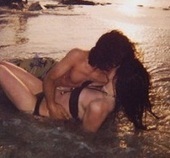 Via Miami New Times:
Either you're too busy staining your sheets with sweat and other bodily fluids to read this right now, or your secret suspicions that everyone else in town is constantly getting laid are about to be confirmed. According to a Trojan Condoms survey, Miami is America's sex capital. We rate first not only in sexual satisfaction but also in the number of times we get busy each year.
Seventy-three percent of Miamians say they're sexually satisfied, and on average we have sex 177 times a year. That means we're having sex just about every other day. Granted, if we're all shagging that much, it follows that we're all pretty damn satisfied about it.
Miamians also rank second for number of lifetime sexual partners, with 24 apiece, only one behind New Yorkers and Atlantans, who boast 25 bedroom buddies. Miamians also think about sex ten times a day, behind only Los Angelinos, who have dirty thoughts 13 times daily. Sixty-eight percent of Miamians also say they're sexually adventuresome, behind only Atlanta, with 71 percent...
Via
Billy Corben