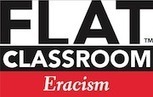 Announcing, the Eracism Project 2013-1, (another Flat Classroom® Project) - a global student debate that joins diverse cultures and includes authentic debate for global competence and international mindedness. The project opens eyes and hearts as students debate on an issue that will bring together diverse ideas, develop transferable skills and create lasting friendships.


Schools selected for the Eracism Project 2013-1 will be asked to enter one or more 3-person debate teams with the remaining students in the class being researchers around the topic:

"The use of Facebook by students around the world to communicate with one another does more harm than good."

The initial debates will be held asynchronously but in what organizers are calling a "simulated synchronous" environment with the final winning teams debating live in a virtual classroom or a virtual world. This project was first carried out in 2009 and has been run every semester since March 2012. The new project, Eracism 13-1, will start in February 2013.