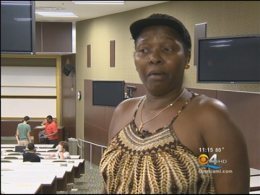 CORAL GABLES (CBS4) – Betty Asbury, affectionately known to students as "Miss Betty," was fired from her job as a cashier at the Hecht/Stanford Dining Hall October 10th.
A man walked past her without paying the required $6.80 for breakfast, she said.
According to Asbury, she did not see the man as she was ringing up another customer.
"I said please, I made a human mistake by overlooking someone and letting them in," Asbury said.
But Chartwells, the food service company that employs her, didn't budge.
CBS 4 News contacted Chartwells' corporate office during business hours Friday. When we asked specifically about Asbury's case, we were told someone would be calling us back. The company never responded.
Asbury said she was terminated despite her previously spotless record.
Her most recent performance evaluation resulted in a raise, she said.
Now she is scrambling to make ends meet.
Students have stepped up to show their support for Asbury. Many shared fond memories of the cashier whose son, Brian, attended UM and played basketball.
Grad Student Philipp Schwind started a Facebook page and created a Change.org petition to have Miss Betty reinstated.
As of Friday night, more than 1,800 people were on board...
(click pic to watch video)
Via
Billy Corben