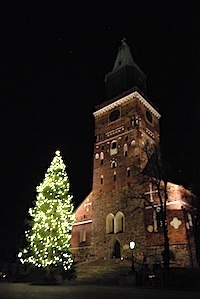 Without snow, Turku is no city of light at this time of the year. Just like the rest of the country... However, the city doesn't give up. When darkness falls, you will see buildings illuminated, as well as fairy lights and Christmas trees that make their statement against the winter weariness.
Turku Cathedral - the oldest part of which dates to 13th century - stands tall. So tall, that it makes the big Xmas tree in front of its stone steps look almost tiny.
Right next to the medieval cathedral there is a lightweight construction that shines through the darkness like a huge lantern.