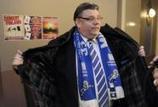 Finland's nationalist anti-immigration Finns Party suffered a heavy setback in this weekend's presidential election, as many of its anti-euro voters fled to the equally eurosceptic Centre Party, observers said Monday.
The Finns Party soared in popularity in last April's legislative elections, becoming the third-biggest political formation with 19 percent of votes as its vehemently anti-EU rhetoric drew voters away from the Centre Party, which struggled to convey its euro opposition.
But in Sunday's first round of presidential voting, the Finns Party candidate and leader, the charismatic and popular Timo Soini, managed to scrape up just 9.4 percent despite a campaign that focused heavily on Finland's role in the eurozone.