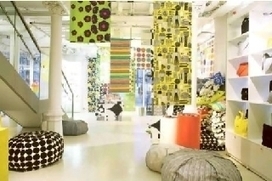 The Finnish company, known for bold floral and geometric shapes, celebrates the centennial of its founder, Armi Ratia, this year.
At the start of her career, the textile artist Armi Ratia said: "One has to dream. And one must stand out from the rest." The woman who founded Finland's famous design company, Marimekko, in 1951, certainly did both.
Known for its prints and cheerful designs, Marimekko has been described as one of the greatest success stories in the history of 20th-century design. Even if you don't necessarily know the brand by name, you'll know its signature look: big, bold, simple floral and geometric prints that find their way onto cushions, linens and ceramics.