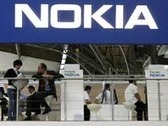 Betting big on its 'Lumia' series, Finnish handset maker Nokia is targeting sectors like manufacturing, pharmaceuticals, banking and insurance to capture a major share of India's enterprise smartphone market.
Many companies are now allowing employees to use their personally owned devices for official use and that Nokia feels is a major opportunity.
"Earlier companies used to buy handsets in bulk, but now they are now looking at allowing workforce to use their own devices at work. This shows that there is a clear need for alternatives and we see that as a big opportunity," Nokia India Director (Enterprise Sales) Suresh Vedula said.
Nokia already has its E-series of business devices and now, with Lumia 800 and Lumia 610, the portfolio ensures that needs of these entities are taken care of, he added.