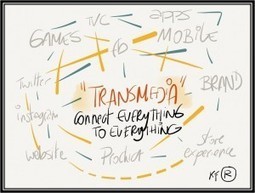 [this article also includes some interesting transmedia examples]
You will have seen from my various previous posts that I am passionate about how brands tell their stories. [e.g. here] And I keep searching for more answers on how to do that better. Key question to solve, today, is: how to cross all media with one single story in a seamless, media-complementary way. And by doing so, making the story (and thus, the brand) more appealing for the audience (i.e. your consumers). Seems easy to do, but proves very difficult to execute. How many brands really achieve that? It's so easy to tailor your story to a certain medium, instead of looking at the overall picture and using each medium in itself as "part of" the story. And how do you organise for that to happen? Transmedia is the new way! See further in this note my 5 tips on how to get into transmedia the right way.
#1. Put the desired experience at center of your thinking!
#2. Go all the way!
#3. It's about a story!
#4. Involve the consumer!
#5. In the midst of all the deep complexity transmedia creates, KEEP IT SIMPLE!