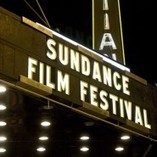 Many of the world's leading independent filmmakers that flocked to this year's Sundance Film Festival in Park City, Utah had the privilege to meet with government entities providing production hubs, industry sessions, parties, and more.

According to Kevin Clark, executive director at theAssociation of Film Commissioners International(AFCI), Sundance 2013 was attended by more than 20 AFCI members, including those from Louisiana, Utah, Florida, North Carolina, California, Montana, San Antonio, Houston, Austin, Quebec, Dominican Republic, Illinois and New York.
With 2013 being its first year at the event, the AFCI Beyond Cinema Media Studio set up shop on upper Main Street and offered a welcome party to kick off the Festival's opening weekend. The studio also hosted a number of events with receptions by various film offices, including North Carolina, Montana, San Antonio and Ft. Lauderdale.
"The idea is [that] there are talent, producers [and] directors that go through the studio all week long, and we involve those people in a larger conversation about what film commissioners do and how locations, jurisdictions and commissions support the overall role in production," Clark explained. "It's been a real service to the members because we are able to keep the cost down [as well as] help them secure fantastic space here on Main Street."
The state of Montana also made a strong impression at the Festival by throwing a party known as the Montana Filmmaker Reception. "All the filmmakers are here in Park City for Sundance," said Deny Staggs of the Montana Film Office, "[and] we invite the industry to come by and learn more about Montana and our tax incentive, crews [and] locations [and] to network." To make the event memorable for visiting filmmakers, the Film Commission provided Montana music and spirits.
Via
iMOVIEi