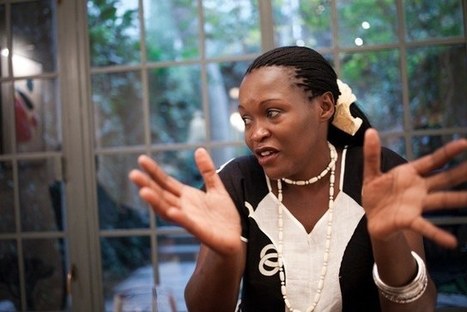 During Wangari Maathai's Green Belt Movement in Kenya, a young Inviolata Mmbwavi stood by as the boys planted trees. Girls didn't plant trees! Her mother thought, as did most Kenyan mothers at the time, that her daughter should be cooking. "You should be in the kitchen, you should be cleaning and scrubbing pots," Mmbwavi remembers hearing, laughing at the thought of it now, more than 20 years later.
"But my brothers were playing and planting trees, and I wanted to play too," she says. "My father told me, you go pick a tree and plant!" So she did. And, "that tree grew," she tells me–just like her activism grew throughout her childhood and continues to grow to this day.
Inviolata Mmbwavi carries a tattered copy of the Kenyan constitution with her. "It is my weapon," she tells me. "When someone says something that isn't right under the law, I pull open my copy!"
The constitution is fragile and new. Written in 2010, it has yet to be fully implemented in Kenya. Based in part on the U.S. constitution, it provides revolutionary rights to women and other marginalized persons. But in practice, the constitution has gained little practical traction. Mmbwavi is standing for Parliament in order to help change that–especially to help implement Article 27, which ensures the rights of all persons under the law, regardless of gender, race, religion or HIV status.
Via
Marion Chapsal