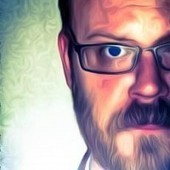 Those are the days you have to write.
Even if it's nothing, even if it's crap, you've got to carve the words onto the page. Even if it's only a hundred words, even if you only get to move the mountain by a half-an-inch, you're still nudging the needle, still keeping that story-heart beating, still proving to yourself and to the world that this is who you are and what you do.
They say you can't get blood from a stone but squeeze a stone hard enough, you'll get blood.
Via
mooderino