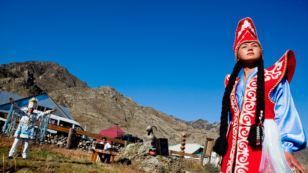 With unemployment high, nature tourism could provide jobs for next generation growing up in Russia's faraway Altai region...
DB: Folk culture can be characterized as being localized, small, rural, traditional and perhaps most importantly an isolated and often stagnant society. In an increasing interconnected and urbanized world it is becoming extremely difficult for any group of people to remain isolated and not be influenced by others or in turn have an impact on them. This is especially true for many traditional folk cultures who have remained largely isolated from other groups. Around the globe tourism is increasing being drawn to these people with the intentions of admiring or participating in the local folk culture but in the long run they may actually be causing its demise. A key feature of folk culture is isolation and the increased interaction brought by tourism can have a profound effect on its stability and duration. In Russia the Altai people in Siberia can be seen as a place where the tourist industry may slowly erode the local folk culture. As members of the community interact more with outsiders they will be exposed to new and conflicting ideas that could make the traditional lifestyle less appealing. Likewise the inevitable construction of tourist shops, hotels and other services will likely alter the physical and cultural geography of the area.
What happens to folk culture when it becomes commercialized? Do traditions lose their value and meaning when they are done for money? Can it remain the same in an area where increasingly the only way to make a living is to entertain tourist? Like Hawaiian fire dancers cultural performances may literally become just a performance. What impact does tourism have on local culture? How can tourism affect folk culture?
Via
Seth Dixon