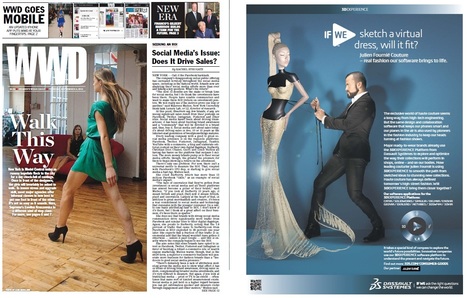 FashionLab by Dassault Systèmes is a technology incubator dedicated to fashion designers. It merges fashion design teams know-how with the technology innovations created by Dassault Systèmes over 30 years.
FashionLab's unique offering enables designers like Julien Fournié to create entire fashion collections by providing innovative applications to sketch silhouettes, test fabrics, and simulate textile architecture and behaviour virtually, to bring stunning clothes to life.
But innovation goes far beyond doing more of the same things. The industry is now looking at how to deliver 'Experiences' to their consumers and Dassault Systèmes with our 3DEXPERIENCE Platform is here to provide the capability to do so. By fueling the innovative spirit demonstrated by leaders in the world of fashion design, Dassault Systèmes enables them to deliver their brand promise and to find new opportunities to build their business and customer loyalty.
In the sophisticated, fast-moving Consumer Goods market, smart consumers increasingly demand consistent and engaging interaction across multiple channels: in store, socially and even in their homes. How long will it take before we can ask our virtual selves to pick the right outfit and guarantee the perfect fit?