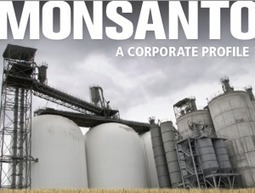 April 3, 2013 Food and Water Watch
Today, the consumer advocacy nonprofit Food & Water Watch released its report, Monsanto: A Corporate Profile.,,,
Excerpt: "People need to know about Monsanto's history as a heavy industrial chemical manufacturer; a reality at odds with the environmentally friendly, feed-the-world image that the company spends millions trying to convey."
http://www.foodandwaterwatch.org/pressreleases/from-saccharin-to-ge-seed-report-profiles-monsantos-history-peddling-chemicals-for-food-agriculture-war/
April 18, 2013 - New York Times
A TOOTHLESS 1976 LAW ON TOXIC CHEMICALS http://www.nytimes.com/2013/04/19/opinion/a-toothless-law-on-toxic-chemicals.html?_r=1
April 2, 2013
MONSANTO, BIOTECH AGRICHEMICAL CARTEL BUYS OBAMA, THE US SENATE AND THE GLOBAL FARM http://sco.lt/8edR3Z
2 April, 2013 VIDEO REPORT Al Jazeera
THE CONTROVERSIAL MONSANTO PROTECTION ACT : WHY DID OBAMA SIGN THEIR IMMUNITY INTO LAW http://www.aljazeera.com/programmes/insidestoryamericas/2013/04/2013428059717911.html?utm_content=rssautomatic&utm_campaign=twitter&utm_source=SocialFlow&utm_term=june&utm_medium=tweet

++++WATCH:
GENETICALLY MODIFIED FOODS IN AMERICA | Documentary - YouTube http://www.youtube.com/watch?feature=player_embedded&v=Vd_X1-moZkc#!
++++ WATCH
VIDEO REPORT @BBC
A BILLION GO HUNGRY BECAUSE OF GMO FARMING : Vandana Shiva http://www.sott.net/article/260505-A-billion-go-hungry-because-of-GMO-farming-Vandana-Shiva
+++A 21st CENTURY SYNTHETIC BIOTECH LIFE - RE-ENGINEERING, RE-PROGRAMMING AND PATENTING LIFE ITSELF http://sco.lt/6M35KD
-----------------------------
MOM'S SPEAK OUT ON GMOs
April 7, 2013 - Nation of Change
WHAT EVERY PARENT SHOULD KNOW ABOUT MONSANTO http://www.nationofchange.org/what-every-parent-should-know-about-monsanto-1365343178
+++WATCH: TED VIDEO
FORMER WALL STREET FOOD INDUSTRY ANALYST TURNED 'REAL FOOD' MOM EVANGELIST - ROBYN O'BRIEN http://sco.lt/5zL0fR
MOMS ACROSS AMERICA SLAM GMOs WORLDWIDE : Exclusive Video Blog http://sustainablepulse.com/2013/04/07/moms-across-america-slam-gmos-worldwide-exclusive-video-blog/#.UWHo-Rk0ORQ
POISONED FOR PROFIT - HOW TOXINS ARE MAKING OUR CHILDREN CHRONICALLY ILL http://www.poisonedforprofit.net/
-------------------------------
April 3, 2013 - IFEX
HOW THE BIOTECH INDUSTRY IS GAGGING THE SCIENCE AROUND GENETICALLY MODIFIED FOOD http://www.ifex.org/international/2013/04/04/seeds_of_dissent/
EXCLUSIVE VIDEO: Professor Gilles-Eric Seralini BACKS USA ORGANIZATIONS IN GMO LABELING FIGHT http://sustainablepulse.com/2013/04/04/seralini-backs-us-organizations-in-gmo-labeling-fight/#.UWFaJZO
BIO-DEMOCRACY OR CORPORATOCRACY? THE FOOD FIGHT OF OUR LIVES http://sco.lt/7696kT
April 3, 2013 Common Dreams
CHEMICAL DISASTERS, AGENT ORANGE, AND GMOs: MONSANTO'S LEGACY TRACED http://www.commondreams.org/headline/2013/04/03-2
MAY 12, 2011 -GMO Awareness
MONSANTO'S DIRTY DOZEN - NOT JUST GMOs AND CHEMICALS
When you take a moment to reflect on the history of product development at Monsanto, what do you find? Here are twelve products that Monsanto has brought to market. See if you can spot the pattern....
http://gmo-awareness.com/2011/05/12/monsanto-dirty-dozen/
MONSANTO ENTERS PHARMACEUTICAL BUSINESS, ACQUIRES KEY 'GENE SILENCING' TECHNOLOGY http://sco.lt/8Qwjw1
April 3, 2013 Food and Water Watch
MONSANTO: A CORPORATE PROFILE (Download Full Report) http://www.foodandwaterwatch.org/reports/monsanto-a-corporate-profile/
WATCH:
MONSANTO FOOD WARS: GMO SEEDS AND ANIMALS http://sco.lt/7VzazJ
>>> WATCH: "SEEDING DEEP DEMOCRACY - Vandana Shiva http://www.scoop.it/t/agriculture-gmos-pesticides/p/1054461972/seeding-deep-democracy-vandana-shiva
WATCH:
"GENETIC ROULETTE - THE GAMBLE OF OUR LIVES" - YouTube 1:24:59 https://www.youtube.com/watch?v=GrWRzxMUfDE
VIDEO:
THE WORLD ACCORDING TO MONSANTO (FULL LENGTH) - THE LEADER OF THE BIOTECH CARTEL http://sco.lt/7FFsXZ
Via
pdjmoo
,
Levi