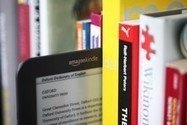 Printed works aren't about to be killed off by digital readers just yet, says global publishing expert
The reassuring news about printed books - for those who devour them - is they are not ready to surrender to the digital tide.
That's the perspective of a book lover who reads ebooks and who sits at the top of the world's publishing industry. Jens Bammel, a German lawyer and secretary general of the International Publishing Association, watches the business of books from Geneva.
He likens its condition to surfing an avalanche, given that the irresistible momentum of digital publishing is sweeping all before it ...
Via
Carisa Kluver