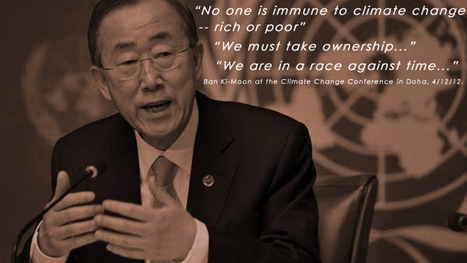 Ban Ki-moon: Reduce and compensate all the UN's greenhouse gas emissions The United Nations is leading the world's efforts to combat climate change. This includes reducing its own greenhouse gas emissions wherever possible. We believe it is also the duty of the UN to compensate the remainder of its emissions by cancelling Certified Emissions Reductions (CERs) from clean energy projects.To:
Ban Ki-moon, Secretary General of the United Nations
Christiana Figueres, Executive Secretary UNFCCC
Gareth Phillips, Chairman PD-ForumReduce greenhouse gas emissions from the activities of the United Nations System of Organisations and compensate the remainder by cancelling CERs from clean energy projects.
Dear Mr Ban Ki-moon,
Thank you for your commitment to tackle global climate change, the initiatives reported on
www.greeningtheblue.org
including the transparent reporting of the UN's emissions, and the hard work of your...
To read the full article and access the petition page, click on the title above...
Get your Free Business Plan Template here:
https://growthink.infusionsoft.com/go/freebptemplate/gt4045/
Via
Marc Kneepkens