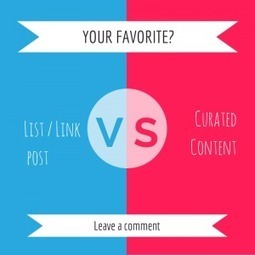 Some people say content curation is useless, but I disagree. When done properly, it can actually demonstrate your expertise to your target audience.
...I was reading a blog post the other day that declared that content curation does nothing for the curator, their SEO or their traffic. As the author of the post doesn't appear to curate very much at all, I wondered how they came to that conclusion?
What is curated content?
Content curation means pulling together content from various sources and presenting it to the reader in your own unique way. It's a step beyond the normal list post or an effective link post.
It may be easier to understand content curation by defining what it is not: Content curation doesn't mean presenting a list of stories or a weekly roundup of links. It's not a simple cut and paste job where you rip off content from someone else and imagine you are presenting it in some fresh and exciting way....
Via
Jeff Domansky