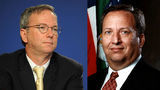 This was posted by Daniel Honen on Big Think

Very interesting series of videos on the discussion by Larry Summers of Big Think and the Nantucket Project a festival of ideas held on Nantucket, Massachusetts this month. The comments at the bottom are worth reading as well.
Intro:
The panel was stacked with financial heavyweights Eric Schmidt, Executive Chairman of Google, Larry Summers, Former Treasury Secretary and President of Harvard University, Hedge Fund Manager Eddie Lampert, venture capitalist Stephen DeBerry and Mellody Hobson, President of Ariel Investments. The panel was moderated by Tom Stewart, Chief Knowledge Officer at Booz and Company
****The question of short-termism was the subject of a lively panel at Stewart, Chief Knowledge Officer at Booz and Company. The full panel can be viewed here.
The highlights in this post bellow follow an exchange between
****Larry Summers and Eric Schmidt, in response to Tom Stewart's question about
*****whether it is difficult for a CEO to embrace the long view if he has to live and die quarter-by-quarter.
****Schmidt immediately turned this question back to the panel and audience, by posing the rhetorical question,
****"How long is the future?"
Watch Eric Schmidt here:
Curated by JanLGordon covering "Exploring Change Through Ongoing Discussions"