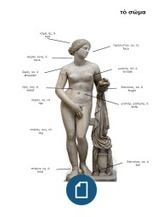 Ancient Greek Picture Dictionary - Read online for free. This is a highly first draft of a picture dictionary for ancient Greek. There are lots of features missing, which I do have locally but am not ready to share quite yet. The idea here is that one can create a visual tool for a language that has not traditionally had such tools. The other idea is that this tool can be made using authentic materials (i.e. pictures of locations and cultural artifacts that directly relate to ancient Greece).

If you spot an error: please don't be afraid to drop me a line. It's digital and easy to fix.

If you recognize your photo and don't see a credit: give me time. I've got a list of who needs what credit. When I get a document that's a bit more ready to go, you'll get proper credit.
Via
Ana Ovando