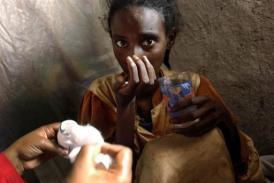 Sub-Saharan Africa is likely to see a more than 200 percent increase in the number of older people living with HIV in the next 30 years, thanks to improvements in lifesaving treatment, experts said Thursday.
"The proportion of people living with HIV aged 50 and over is going to increase a lot," Robert Cumming of the school of public health at the University of Sydney said at a conference on ageing in Africa.
Three million people aged 50 or older currently live with HIV in sub-Saharan Africa and that figure is expected to rise to 9.1 million by 2040.

"HIV positive elderly would need special attention because they seem to start ARV treatment very late," said Liotta.
Anti-AIDS data and policy efforts in Africa have overwhelmingly focused on the 15- to 49-year-old grouping. Older people know less about the disease and are less likely to be tested, and face difficulties with access to care, said Cumming.
An analysis by HelpAge International found only 68 of 119 country progress reports submitted to United Nations agency UNAIDS had some data or reference to older people. Only four had details on prevalence for those living with HIV. "The lack of data just means we don't have a clear picture of what's happening in relation to HIV and ageing and that means that we can't respond appropriately," said the NGO's Rachel Albone.