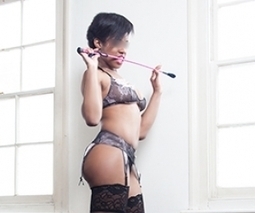 My name is Ann, I'm a 5ft 7 black British female and your typical naughty catholic school girl. I have golden brown skin that's smooth and supple to the touch, big almond shaped eyes, beautifully round breasts with dark nipples and long slender legs with a deliciously round and perky, spankable bottom...

I have a naughty and frisky nature that's in dire need of being tamed. I like to break the rules in attempt to push you to your limits, actions which need to be reprimanded.

I wonder how many spanks will it will take to turn my pert brown bottom a charming red? What sounds will I make as you cane me? Will I flinch or try to wriggle away? Perhaps you'll have to gag me to muffle my screams, or blindfold me so I have no sense of what's to come next...