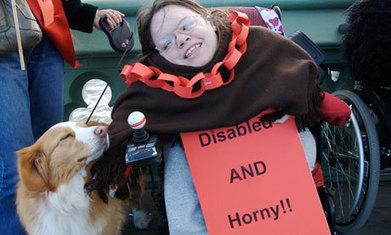 Recent reports that a care home procured sex workers for its disabled residents and new film The Sessions have put disability and sex in the spotlight. But is the focus on prostitution helpful?
Ash King felt as if he had spent his adult life searching for some sort of sexual intimacy. Born with a severe spinal and muscular condition, sexwas something he still hadn't experienced by the age of 35 and he was afraid that, with his disability making him increasingly weak, he never would. In 2010, after becoming isolated and depressed, King decided to hire a sex worker.
"I couldn't make someone fall in love with me," he says, "but I could at least learn about my sexual potential and more about women by paying a sex worker." Looking back at his first sexual encounter, King describes it as an "enlightenment".
The sexual needs of people with disabilities are under the spotlight like never before after the release of Oscar-nominated film The Sessions, which is based on the true of story of a man confined to an iron lung who loses his virginity to a "sexual surrogate". And last month, ex-staff from a care home in Eastbourne, in East Sussex, told the press they had allowed sex workers into the home at the request of disabled residents. Helena Barrow, ex-manager of the Chaseley, a nursing home for 55 people with neurological problems and learning difficulties, called it the residents' "special visit", and said it helped them to relieve a "primeval need they cannot fulfil".
The Chaseley Trust, which runs the home, denies procuring prostitutes for its residents. But its chief executive, Sue Wyatt, said in a written statement: "We are acutely aware of the rights of disabled people and where an individual expresses a wish to have a physical relationship and we can safely and legally support them with their partner, we will do so."
King found his sexual surrogate online, through the TLC Trust, a UK organisation that seeks to connect people with disabilities to sex workers. According to its founder, sex therapist Tuppy Owens, each of the 100 sex workers listed on the website could be seeing around eight disabled clients a month. "Finding a sex worker who will talk, teach, accept … is a bit of a boost of confidence and self-esteem," she says.
Becky Adams, who describes herself as a former madam, runs a not-for-profit, telephone-based service supported by TLC, and says she receives about 12 inquiries a week from disabled and vulnerable people looking for a trusted sex worker. She plans to open the first brothel designed for disabled clients in the UK next year. She says she wants to provide an environment in which people with disabilities can explore theirsexuality. "That can be sex," she says, "but also having a cuddle. It could even be someone having an hour cross-dressing who wouldn't normally have the privacy to. I've been overwhelmed by the response we've had."
One of her clients, Chris Fulton, 29, who has cerebral palsy and muscular dystrophy, has launched a campaign calling on the government to introduce a Netherlands-style grant scheme in which citizens with disabilities receive public money to pay for sexual services up to 12 times a year. But disability charities say the issue is not a priority. Richard Hawkes, chief executive of the disability charity Scope, says: "We need to break through taboos around disability and sex. But it's impossible to have any kind of relationship if you don't have the support you need to get out of bed, get washed and dressed, have a proper meal and get out of the house. At the same time, many disabled people are worrying how they'll pay the bills. Living costs are spiralling, jobs are hard to come by and the government is cutting disability living allowance and employment and support allowance."
In the UK, paying for sex is not against the law but it is illegal to solicit sexual services. Amanda Smith, an escort in her 40s from south London, who has a listing on the TLC website, says: "For some men, the only touch they've ever had is their mum bathing them." Talking about the practicalities of providing sexual services to disabled clients, she says: "I've lifted grown men who weighed less than a five-year-old from their wheelchair to the bed, and then back again, fully dressed for the takeover by carers or family."
Some of the bookings are made by the parent of the client, says Smith – typically fathers. "Sex is a need, like food," she says. "If you can't quell it, it should be taken care of. It's cruel not to."
It is language that is rarely used in reference to women with disabilities. Owens says she would like to see this change, and has known disabled women who have used male escorts. But she acknowledges that many disabled women feared the risk of being abused. They "don't trust male sex workers to be honourable", she says. A rare survey of disabled people's attitudes to prostitution, conducted by Disability Now magazine in 2005, found that just 19% of women said they would see trained sex workers, compared with 63% of men.
Mik Scarlet, a writer and campaigner in sexuality and disability, sees the use of sex workers as a potentially harmful development. "It's like the world telling you that disabled people are so unsexy that the only way they can have sex is to pay for it," he says. "If you're growing up as a disabled child or someone who's just come to disability, how does that affect how you feel about yourself? I don't want a world where it's easier for disabled people to visit sex workers, I want a world that sees disabled people as sexual and valid prospective partners."
Penny Pepper, author of Desires Reborn, a fictional depiction of the relationships of a group of disabled characters, agrees: "What disabled people need is full and equal rights. An inclusive society, which doesn't create barriers." Forming sexual relationships, casual or committed, with mistakes is part of that, she says.
Laurence Clark, a comedian who has cerebral palsy and featured, along with his wife Adele who also has cerebral palsy, in BBC documentary We Won't Drop the Baby as they prepared for the birth of their second child, says many people with disabilities are in emotionally and sexually fulfilling relationships.
Before getting married, he says he had mixed experiences of dating. "I found the traditional ways that people find partners, such as going to clubs and bars, didn't really work for me, as attraction in those sorts of environments is very much based on looks," says Clark. "But like lots of people, I tended to date through people that I met at work and people in my social networks."
He says the media greatly affects disabled people's self-confidence, rarely portraying them in relationships or even as having sexual partners. "It's a sad reflection on society when a disabled person thinks that a sex worker is the only option for them," he adds.
King says he has always wanted a girlfriend. The severity of his disability means he is able to do little for himself, though, and he needs a live-in personal assistant and close contact with his parents, who live across the street from him. "I have a lack of personal privacy that would seem to be essential for [a relationship]," he says. He jokes that there's also the small matter of his body not having the shape that draws "admiring glances". "I've always tried to make light of it," he says. "I've longed to be in a relationship ever since I can remember. It felt, and still feels, impossible."
For him, being with a sex worker was a way to have at least some sexual experiences. "To think I could have gone through my life never having known [what sex is like] is frightening," he says. "Nobody should ever have to do so. It's too much part of being human."
Some names have been changed