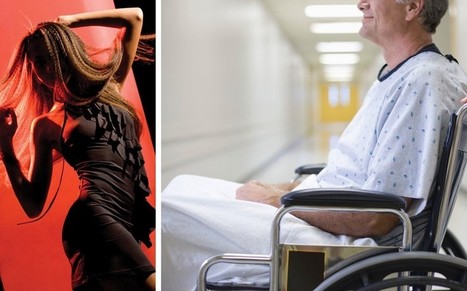 Helena Barrow, the former manager of The Chaseley Trust care home in Eastbourne, East Sussex, said staff were defending the residents' "basic human rights" to sexual relationships by helping them to access escorts.
East Sussex County Council has launched an investigation into the possible "exploitation and abuse" of vulnerable people.
Ms Barrow said: "The fact is, sex workers are allowed by law to sexually enable people but care workers are not.
"If someone is asked, we would often call in a professional, someone trained to do that. It's known as a residents' 'special visit'."
Ms Barrow, who has now left Chaseley to manage a care home in nearby St Leonards, told a local newspaper residents always paid for the call girls themselves through pensions, savings or benefits.
She said staff would often telephone sex workers and invite them to the care home, which provides accommodation for 55 people with neurological problems and learning difficulties.
When possible, staff would dial the number and hold the telephone to the disabled person's ear so they could make the call themselves.
Se added: "If you have a resident who is groping staff, one way of resolving that problem is to get a sex worker in and who is trained to deal with that situation. But most of the time, these are people who feel frustrated by a primeval need they cannot fulfil."
"We would help them with the phone, dial the number or use the computer to contact someone who could help. If we refused, we would not be delivering a holistic level of care."
When the prostitute arrived they would be welcomed and escorted by a member of staff to the room where the resident would be waiting.
Staff would put a 'special red sock' on the door handle to make sure the couple would not be disturbed before checking on them every 15 minutes.
On one occasion local strippers were invited to the care home to put on a 'special show' for residents.
The current manager of the home said the practice is continuing.
Sue Wyatt, Chaseley's current manager, said prostitutes were still welcome in the care home but a 'third party consultant' now contacted prostitutes on behalf of the care home staff.
She said: "People have needs, so sometimes we might need to set up a room in a certain way. We are there to help. We respect our residents as individuals so that is why we help this to happen."
A spokesperson for East Sussex County Council said: "We will examine our concerns through the Pans-Sussex Multi Agency Policy and Procedures for safeguarding Adults at Risk.
"This has the potential to place vulnerable East Sussex residents at risk of exploitation and abuse."
One prostitute, who did not wish to be named, said: "I go to own particular care home in West Sussex at least once a month, more often once or twice every two weeks, but others too.
"Obviously every client has the same colour money and the job isn't done for enjoyment's sake."