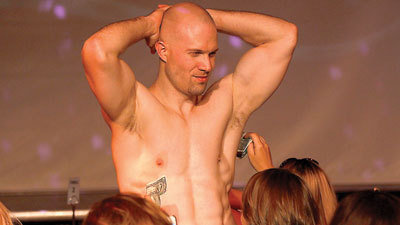 His story reads like a script from a movie: Small town boy, saddled with debt, turns to stripping to make extra cash while he figures out what he wants to do with his life. He becomes good at shedding his clothes for men and women, moves to the big city, and his career as a stripper takes off.
But for this 31-year-old Logan Square resident, who goes by the stage name "Blake," the limelight hasn't always been kind. His first time on stage, in 2004, he made $11.
"Seven dollars of it was from a guy. It was awful. I didn't know what I was doing," said Blake, who asked for his name to be withheld because he recently accepted a part-time job coaching a children's football team. "I was on stage going, 'What do I do next? Don't be boring. Do something.'"
Eight years later, Blake has perfected his moves and his look—which includes graying hair and an unshaven chest—though he admits he still gets nervous during performances.
The shy guy who avoided dancing when he was growing up in the Milwaukee area now gyrates for private bachelorette parties and on stage Saturdays for the all-male revue show SinZation at Circuit nightclub in Boystown.
"It is what it is. I wouldn't put it up there with doctor or astronaut," Blake, who is straight, said of his career choice, which earns him about $150 an hour on weekends. "I think there's a little bit 'This isn't what I would have chosen for myself.' "
Yet this may be male stripping's time to shine. Later this month, Channing Tatum will star in "Magic Mike," a Steven Soderbergh film reportedly about Tatum's previous career as a stripper.
And Tatum's not the only star taking (it) off: '80s heartthrob Joey Lawrence recently joined Chippendales in Las Vegas. Meanwhile, Illinois legislation that would tax strip clubs has cast a spotlight on the profession as well.
In Chicago, there are about 50 male strippers who work the club circuit, said talent booker Jeffrey Binninger, who produces SinZation. The demand for male strippers in Chicago is smaller than that in larger cities like New York and L.A., and in Miami and Vegas, which are tourist destinations for bachelorette parties, Binninger said.
There are a few clubs in Chicago that regularly feature male strippers, including Atmosphere in Andersonville and Cocktail and the Lucky Horseshoe Lounge in Boystown.
"When we have the dancers, we do very well," said Charlie Brown, who owns Atmosphere, which has featured male dancers for five years and now spotlights them at least two times a week. "A number of the dancers have followers who call and check up or check the Web page. We have regulars who will not come in if one of their dancers doesn't come in a certain night."
For Blake, who has danced at Atmosphere, typically in costume, stripping was supposed to be a temporary fix.
He was working as a bouncer for a Milwaukee-area gentlemen's club and then became a different kind of body man—serving as the body for body shots. He eventually transitioned into stripping because it made financial sense.
"I thought, 'I'm not going to be one of those frou frou guys prancing around.' But $8.25 an hour wasn't really cutting it," he said. "So really it was just hearing the dollar amounts and how it could help me catch up with life. That kind of did it for me."
He started out visiting small clubs in Iowa and Indiana by bus with other strippers. (It was during one of these trips that one of his friends suggested "Blake" as his stage name, which he adopted because he didn't hate it.)
He moved to Chicago shortly thereafter and stripping, once a quick solution, became his career. He said that at one point he was dancing at 10 different clubs in the Chicago and Milwaukee areas.
"I had resolved I was going to pay off these debts. And then when I did that I kind of had a change of heart," he said. "It's fun to do things you're good at. Connect with people. It's not just a sexual thing."
But, of course, there were complications. He had to tell his parents, who he said were surprised, though Mom may have had an inkling because she noticed how fast he was paying back the money owed her.
He didn't tell Dad, however, about stripping for men because he'd rather him not know —though Blake said he doesn't mind dancing for men.
He had to tell his friends. And he had to tell his significant others—but that was never too difficult since he tends to meet his love interests while stripping.
"There's some level of attraction and intrigue. There's something special about you," he said. "It's kind of, 'Hey can I try to convince you that this isn't all of me sometime?' " It's a line not unlike one Tatum's character says in a "Magic Mike" trailer.
Blake credits his success as a stripper to setting boundaries—a lesson he didn't learn early.