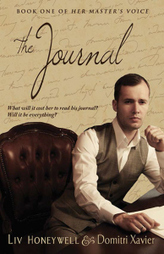 Please help me welcome Liv Honeywell and Domitri Xavier to our little corner of the net today. They were nice enough to sit down with me and talk about their new book The Journal which came out on July 12th. Be sure to keep reading after the interview for more information on where you can find The Journal and for the giveaway!!
Now that we've gotten the formalities out of the way, Hi Liv and Domitri. Thanks for stopping by our little corner of the net. We're so glad you decided to sit down and chat with us. Can you tell us a little bit about yourself in case the readers haven't met you before?
We're very happy to be here and thank you for having us . We write BDSM erotica, both together and separately and tend to focus on Master/slave relationships, though that doesn't mean that it's all deadly serious and without humour!