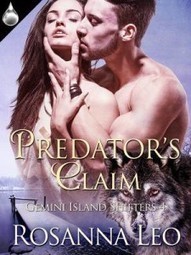 Thank you so much to the lovely Liv for hosting me today. I'm thrilled to be here to tell you all about my latest paranormal romance, Predator's Claim, Gemini Island Shifters 4.

Although this is a book 4 in my shifter series, I write all my books to stand alone. By all means, I'm thrilled when a reader picks up the entire series and reads them in order, but with my books, you don't have to. I believe in happy endings, and even with my series books, each story centres on a different couple.

In this case, we have wolf shifters Bart Cairo and Charlotte Moffatt. Being shifters, they possess some interesting powers, ones that are so much fun for the author to explore and exploit. Chief among these is an increased sexual appetite.