Scoop.it!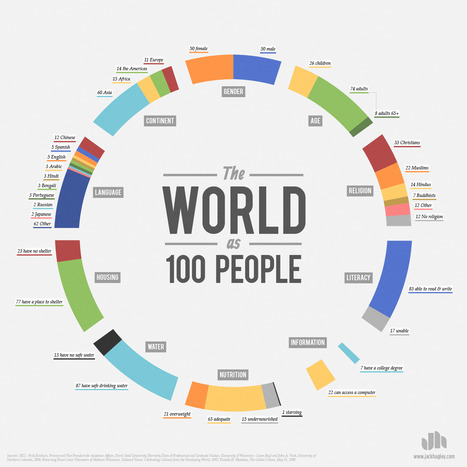 The World as 100 People. This idea has been around since 1990. This is my attempt at presenting the information.
Jacques Le Bris's insight:
Près de 7 milliards d'humains ramenés à un village de 100 individus : c'est ce qu'à voulu représenter Jack Hagley sur une infographie publiée sur le site lybien Visual.ly. Un travail qui permet de cerner en un coup d'œil la composition de la population mondiale.
26 enfants et 8 seniors
Les femmes seraient à égalité avec les hommes dans ce monde de 100 personnes, chaque genre étant représenté par 50 individus. En termes de génération, 26 enfants devraient côtoyer 74 adultes et 8 personnes âgées de plus de 65 ans.
60 individus sur 100 seraient asiatiques
Mais c'est concernant les langages que cette infographie est la plus parlante. 12 personnes parleraient en effet chinois, 5 espagnol et anglais et 3 seulement parleraient arabe. Une distribution qui fait écho à la répartition des 100 personnes sur les continents : parmi eux, 60 seraient asiatique.
L'infographie de Jack Hagley s'est également intéressée aux conditions de vie de cette population réduite. 23 auraient ainsi le malheur de ne pas avoir de toit, et 13 n'auraient pas accès à l'eau potable. Enfin, sur la balance nutritionnelle, on compterait 21 personnes en surpoids, 15 en état de malnutrition et un unique individu mourant de faim.