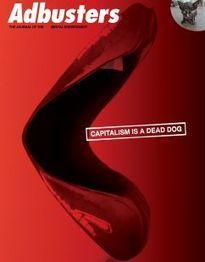 November 14, 2013 Adbusters
-▶Why are we marching toward disaster, "sleepwalking to extinction" as the Guardian's George Monbiot once put it? Why can't we slam on the brakes before we ride off the cliff to collapse? I'm going to argue here that the problem is rooted in the requirement of capitalist production. Large corporations can't help themselves; they can't change or change very much. So long as we live under this corporate capitalist system we have little choice but to go along in this destruction, to keep pouring on the gas instead of slamming on the brakes,... https://www.adbusters.org/magazine/110/sleepwalking-extinction.html
International Consortium of Investigative Journalists , January 03, 2014
-▶ SECRET OFFSHORE FINANCIAL RECORDS TRIPLED IN 2013 http://www.icij.org/blog/2013/04/release-offshore-records-draws-worldwide-response
International Consortium of Investigative Journalists, January 06, 2014
-▶ IN U.S., EFFORTS TO FIGHT OFFSHORE SECRECY HIT SNAGS - WHO OWNS WHAT CORPORATION? http://www.icij.org/blog/2014/01/us-efforts-fight-offshore-secrecy-hit-snags
Nation of Change, December 30, 2013
-▶ THE SHOCKING REDISTRIBUTION OF WEALTH IN THE PAST FIVE YEARS http://www.nationofchange.org/shocking-redistribution-wealth-past-five-years-1388413951

Nation of Change, December 29, 2013
▶ ARE TAXPAYERS PAYING FOR WALL STREET EXECS' BLOATED BONUSES? http://www.nationofchange.org/are-taxpayers-paying-wall-street-execs-bloated-bonuses-1388332272
CSRWire, December 12, 2013
▶ AMID DEBATE OVER MINIMUM WAGE, NEW REPORT SHOWS TAXPAYERS SUBSIDIZE CORPORATE PAY http://www.csrwire.com/blog/posts/1144-amid-debate-over-minimum-wage-new-report-shows-taxpayers-subsidize-corporate-pay
The Guardian, December 14, 2013
-▶ ELECTRONIC WASTE: WE MUST DESIGN GADGETS THAT DON'T POISON THE PLANET. We discard huge amounts of electronics every year, creating a toxic wasteland – often in the poorest countries... http://www.theguardian.com/commentisfree/2013/dec/14/observer-editorial-electronic-toxic-waste
-▶ NationofChange, December 1, 2013
Pope Francis: THE 'TYRANNY' OF CAPITALISM, 'IDOLATRY OF MONEY' AND 'TRICKLE-DOWN' ECONOMICS http://www.nationofchange.org/tyranny-capitalism-idolatry-money-and-trickle-down-economics-1385911252
Pavan Sukhdev - UNEP, CORP2020
-▶ WILL 2013 BRING A NEW, SUSTAINABLE WORLD? AN END TO CRONY CAPITALISM http://pavansukhdev.com/2013/01/05/will-2013-bring-a-new-sustainable-world/
Economy Watch, January 02, 2014
-▶ WHY SOUTH AFRICA (AND OTHER DEVELOPING NATIONS) IS CANCELLING FOREIGN INVESTMENT DEALS http://www.economywatch.com/features/south-africa-cancelling-foreign-investment.02-01.html
Truthdig, December 29, 2013
-▶ OVERTHROW THE SPECULATORS - Chris Hedges http://www.truthdig.com/report/item/overthrow_the_speculators_20131229
CSRWire Talkback, December 10, 2013
▶ FROM SOCIAL OBLIGATION TO SOCIAL IDENTITY http://www.csrwire.com/blog/posts/1138-from-social-obligation-to-social-identity
Guardian Sustainable Business, November 23, 2013
-▶ SUSTAINABILITY MOVEMENT WILL FAIL UNLESS IT CREATES A COMPELLING FUTURE VISION http://www.theguardian.com/sustainable-business/sustainability-movement-fail-future
New Internationalist, December 10, 2013
-▶ PROTECT HUMAN - NOT CORPORATE - RIGHTS http://newint.org/blog/2013/12/10/transatlantic-trade-investment-partnership/
-▶ ALEC : Corporations Run the World, Our Politics and You and Me Through Consumerism http://sco.lt/9KsXJJ
-▶ OBAMA'S SECRETIVE TRADE PACTS MOVING US TOWARDS CORPORATE GOVERNANCE AS CSR AND SOVEREIGNTY RIGHTS NEGOTIATED AWAY http://sco.lt/5G9V0T
▶ EXPLOSIVE REPORT:
'ALEC' PROVIDE CORPORATIONS AND STATE LEGISLATURES PLATFORM FOR US-WIDE ASSAULT ON EDUCATION,HEALTHCARE, INCOME TAX AND ENVIRONMENT
Conservative groups and State Legislatures across the US are planning a co-ordinated assault against public sector rights and services in the key areas of education, healthcare, income tax, workers' compensation and the environment, documents obtained by the Guardian reveal. http://sco.lt/6dyHEf

VIDEO...
June 29, 2013
-▶ CORPORATIONS HAVE NO DUTY BEYOND PROFIT - LLOYD BLANKFEIN, CEO, GOLDMAN SACHS http://www.theatlantic.com/video/archive/2013/06/lloyd-blankfein-corporations-have-no-duty-beyond-profit/277381/
VIDEO
Moyers and Company, November 22, 2013
'ZOMBIE POLITICS AND CASINO CAPITALISM"
http://billmoyers.com/segment/henry-giroux-on-zombie-politics/
-▶ THE WORLD IS SITTING ON A CONSUMPTION TIME BOMB http://sco.lt/7sR3eT
▶ CONSUMING OURSELVES OUT OF EXISTENCE: ECONOMIC REPORT INTO BIODIVERSITY CRISIS http://sco.lt/868xd3
Guardian, November 27, 2013
-▶ PUTTING A PRICE ON NATURE WOULD BE DISASTROUS http://www.theguardian.com/global-development/poverty-matters/2013/nov/27/price-nature-markets-natural-capital
▶ THE ECONOMY OF ENOUGH: A BETTER PLAN THAN 'ENDLESS GROWTH' http://sco.lt/7f68zR
Just Means, December 13, 2013
-▶ THE B CORP REVOLUTION: INVESTING FROM THE HEART http://www.justmeans.com/blogs/the-b-corp-revolution-investing-from-the-heart
-▶ ECONOMIC SUCCESS ALONE IS NOT ENOUGH TO IMPROVE OUR WELL BEING http://sco.lt/7J7VnF
HuffingtonPostGreen, November 22, 2013
-▶ UNILEVER AND PROJECT SUNLIGHT: NEW AWAKENING OR FALSE DAWN?http://www.huffingtonpost.co.uk/jon-alexander/unilever-and-project-sunl_b_4321444.html
▶ AT THE LIMITS OF THE MARKET: WHY CAPITALISM WON'T SOLVE CLIMATE CHANGE, PART 1 AND 2 http://sco.lt/4lhemf
-▶ NO TO BIODIVERSITY OFFSETTING - NATURE IS PRICELESS http://sco.lt/8Sur3J
▶ THE NEW CORPORATE COLONIALISM. DESTRUCTION OF LIFE ALL IN THE NAME OF 'GROWTH' http://sco.lt/696Tlx
-▶ ERADICATING ECOCIDE: WHY BUSINESS LEADERS MUST STEP UP TO THE CHALLENGE http://sco.lt/7uGWKv
▶ ESSAY: ECOLOGY IS THE MEANING OF LIFE: EMBRACING A SENSE OF "ENOUGHNESS" http://sco.lt/7xGTJZ
-▶ ECO-SPIRITUALITY: TOWARDS A VALUES-BASED ECONOMIC STRUCTURE http://sco.lt/7tcgQj
Common Dreams, Joseph Stiglitz
▶ THE INSANITY OF OUR FOOD POLICY - Joseph Steiglitz http://www.commondreams.org/view/2013/11/17-3
BlogActive EU, November 30, 2013
-▶CITIZENS ARE GETTING FURIOUS AT UNITED NATIONS COP19 IN WARSAW: THE SCHIZOPHRENIC CONSUMER http://rhein.blogactiv.eu/2013/11/19/citizens-are-getting-furious-at-c0p-19-in-warsaw/
-▶WARSAW UN CLIMATE CHANGE CONFERENCE -COP19 http://sco.lt/9F93o1
VIDEO:
-▶ "WHO PROFITS FROM POVERTY? -- DOING GOOD RESPONSIBLY http://sco.lt/6VZEDB
-▶ PASSING THE BUCK: MORE THAN HALF OF U.S. FAST FOOD WORKERS ARE ON PUBLIC AID http://sco.lt/6njYXJ
-▶ THE EVOLUTION OF BUSINESS: HOW A NEW BUSINESS ERA INSPIRED BY NATURE, NOT GREED, CAN BENEFIT US ALL http://sco.lt/6XU6Kn
-▶ FIND YOUR COMPANY'S TRUE PURPOSE -- IT'S NOT JUST ABOUT RAKING IN THE MONEY http://sco.lt/6KeBwf
▶ WILL AMERICANS ALLOW PUBLIC SERVICES TO BE PRIVATIZED? THE PUBLIC-PRIVATE PARTNERSHIP http://sco.lt/7gEXVh
Common Dreams, November 20 2013
-▶ LOCALISTS OF THE WORLD, UNITE ! An Urgent Call to Join the Movement Against Corporate "Trade" Deals http://www.commondreams.org/view/2013/11/20-0
▶ THE CORPORATE PALM OIL HOLOCAUST: ORANGUTAN CLING TO LAST REMAINING A ENTIRE FOREST BULLDOZED http://sco.lt/8lT2Ar
VIDEO
▶ PHILIPPINES: CORPORATE AND MILITARY FORCES DESTROY INDIGENOUS LANDS, LIVELIHOODS AND FORESTS --- FOR PROFIT http://sco.lt/52jaaX
▶ ERADICATING ECOCIDE AND GENOCIDE: WHY BUSINESS LEADERS MUST STEP UP TO THE CHALLENGE http://sco.lt/56vkOH
▶ PHARMACEUTICAL POLLUTION IN OUR STREAMS, RIVERS AND DRINKING WATER http://sco.lt/7XBO1R
allAfrica, January 07, 2014
▶ AFRICA: OUR MODERN, WESTERN AGRICULTURAL SYSTEM IS DESTROYING THE EARTH AND OUR HEALTH.
Today our food comes from across the world. More importantly, it is often produced in highly destructive ways, at the lowest possible cost.
Consequently our food production system is responsible for accelerating the rate of destruction of the very ecosystems we are reliant upon in order to maintain our delicate global environmental equilibrium.
We cut and clear the lungs of the world, our tropical rainforests, to feed livestock or grow dishonestly named "biofuels". We bulldoze natural filtration systems and the nurseries for life like wetlands and mangrove swamps to produce luxury foods for obese populations. http://allafrica.com/stories/201401071158.html?viewall=1
▶ LIVING IN THE ANTHROPOCENE: TOWARD A NEW GLOBAL ETHOS http://sco.lt/6mZspd
▶ HEALTHY ECOSYSTEMS VITAL FOR BOTH HUMAN AND ENVIRONMENTAL HEALTH http://sco.lt/7rCeWH
▶ WEB-OF-LIFE UNRAVELLING - Healthy Ecosystems Vital for All Planetary Life http://sco.lt/8idD7J
March 23, 3012 - The Ecologist
THICH NHAT HANH
▶ MAYBE IN 100 YEARS THERE WILL BE NO MORE HUMANS ON THE PLANET http://www.scoop.it/t/environmental-and-human-health/p/1474669518/thich-nhat-hanh-maybe-in-100-years-there-will-be-no-more-humans-on-the-planet-the-ecologist
WATCH
▶ FILM: ***"HOME"
An Exquisite Dedication To the Stewards of Our Planet
http://thenaturaleye.wordpress.com/2011/03/26/home-an-exquisite-story-of-our-world/
-▶ >> AN URGENT MEMO TO THE WORLD - The Natural Eye Project - http://thenaturaleye.wordpress.com/2012/07/12/an-urgent-memo-to-the-world/