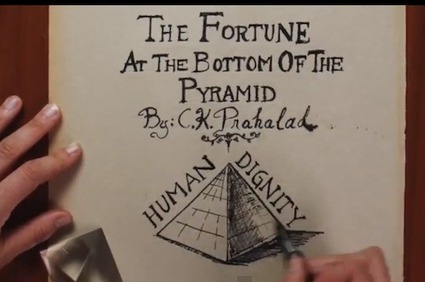 The #GlobalPOV Project With Ananya Roy
▶ "WHO PROFITS FROM POVERTY?"
https://www.youtube.com/watch?v=0deJfPUj1f8#t=267
There are so many different ways to fight poverty, and it's getting easier every day for people from all walks of life to get involved in doing so. But such unprecedented and growing opportunity to do good also carries the risk of repeating past mistakes at an unprecedented and growing scale.
Professor Ananya Roy, at the University of California at Berkeley, takes a class of around 700 undergraduates each fall semester on a journey walking the fine line between that opportunity and risk, or in her words, "the impossible space between the hubris of benevolence and the paralysis of cynicism."
Who do we view as poor? When and how does it become anyone's responsibility to "do something" to help the poor? Can we shop to end poverty? Who profits from poverty?
That last question, examined in the third of the four videos (EMBEDDED IN THIS ARTICLE) currently released, strikes particularly close to the heart of the NextBillion community. Taking on directly the idea of the "fortune at the bottom of the pyramid," Roy and Abby illustrate with words and pictures the opportunity, risk, and history of creating markets for the poor. Not all of that history has been good for the poor, in fact much of it has been very costly for them while generating plenty of profits for the privileged and wealthy.
"As poverty has become more visible, and there's been a lot of attention to the bottom billion, there also lies the danger of predatory poverty markets," says Roy. "That's not to say that all poverty markets or all forms of bottom-billion capitalism are necessarily predatory, but clearly some are, and there is a long history to this. It's not new."... http://www.nextbillion.net/blogpost.aspx?blogid=3413
▶ FOOD AID FOR THE 21st CENTURY: MEETING THE OBJECTIVE OR FEEDING THE CORPORATE COFFERS? http://sco.lt/6jtrlJ
WATCH
"The Locust Effect"
Gary Haugen and Victor Boutros's "The Locust Effect: Why the End of Poverty Requires the End of Violence" focuses on the central role of violence in perpetuating poverty, and shows that if any headway is to be made, this issue has to become a top priority for policymakers. Simply put, if people aren't safe, nothing else matters. Shipping grain to the poor, helping them vote, or assisting their efforts to start a farm is irrelevant. Whatever material improvements we provide will simply wash away in the face of the corrupt police forces, out-of-control, armies, private militias, organized criminals, and — not least — failed justice systems that plague poor countries....https://www.youtube.com/watch?v=JY0FRy4JLYo
▶ "THE LOCUST EFFECT" OFFICIAL WEBSITE http://www.thelocusteffect.com/
UNCOVERING THE HIDDEN PLAGUE THE WORLD HAS MISSED. Far below the headlines, a plague of hidden, everyday violence —
like rape, trafficking, and police brutality — is devastating the
developing world and undermining our efforts to end poverty.
Care2, January 31, 2014
▶ HOW THE GOOGLE BUS BECAME THE SYMBOL OF INEQUALITY IN AMERICA http://www.care2.com/causes/how-the-google-bus-became-the-symbol-of-inequality-in-america.html
▶ BUSINESSES ARE NOT JUST AGENTS OF CONSUMERISM BUT ALSO OF SOCIETY http://www.theguardian.com/sustainable-business/blog/business-agents-consumerism-society-customers?CMP=twt_gu
-------------------------------------------------------
HOUSING IS FIRST LINE OF DEFENSE AGAINST
HOMELESSNESS AND POVERTY
Bloomberg BusinessWeek, January 13, 2014
▶ DEMOLITIONS DIRE FOR POOR AMID AFFORDABLE-RENT GAP http://www.businessweek.com/news/2014-01-13/demolitions-dire-for-poor-as-affordable-rent-gap-grows-economy
Marketplace, NPR
▶ WHY HIGH RENTALS? WALL STREET BUYS UP 40,000+ FORECLOSED HOMES CHEAP, RENTS THEM OUT FOR PREMIUM http://www.marketplace.org/topics/business/blackstone-backed-real-estate-firm-learns-how-be-landlord
VIDEO
▶ THE FACTS BEHIND THE $2.5 BILLION WINDFALL PURCHASE OF BANK-OWNED PROPERTIES BY WALL STREET INVESTORS http://www.youtube.com/watch?v=ynZx2Un34EU
Guardian, January 11, 2014
▶ GEEKS ON THE GOOGLE BUS CREATE GIANT SOCIAL PROBLEM IN SAN FRANCISCO http://www.theguardian.com/world/2014/jan/12/geeks-google-bus-social-problem-san-francisco
▶ WHY THE GOOGLE BUS PROTESTS ARE A CORPORATE SUSTAINABILITY ISSUE http://www.triplepundit.com/2014/01/google-bus-protests-corporate-sustainability-issue/
FreshAir, January 16, 2014
▶ THERE GOES THE NEIGHBORHOOD: SILICON VALLEY TAKES OVER SAN FRANCISCO, FORCING RESIDENTS OUT, CREATING HOMELESSNESS, AT RENTALS SKYROCKET http://www.npr.org/blogs/alltechconsidered/2014/01/16/263088398/hackers-techies-what-to-call-san-franciscos-newcomers
------------------------------------------------------
OpEd News, January 10, 2014
▶ OBAMA'S CORPORATE PLANTATIONS: DEREGULATION, PRIVATIZATION AND CHEAP LABOR http://www.opednews.com/articles/Deregulation-Privatizatio-by-Mike-Whitney-Corporate-Profits_Corporate-Welfare_Labor_Obama-Corporate-Mascot-140110-3.html
▶ THE POVERTY CREATING BUSINESS: Shifting Emphasis For CSR Budget to Local Procurement http://sco.lt/8Tll6f
▶ ON THE BACKS OF THE POOR : 2012 CORPORATE PROFITS HIT RECORD HIGH WHILE WORKER WAGES HIT RECORD LOW http://sco.lt/64Y1Tt
CSRWire, October 09, 2013
▶ WHAT'S IN IT FOR BUSINESS IN THE FIGHT AGAINST POVERTY? http://www.csrwire.com/blog/posts/1051-what-s-in-it-for-business-in-the-fight-against-poverty
VIDEO ANALYSIS
PBS NewsHour, January 11, 2014
STAGNANT WAGES OVER PAST 45 YEARS IMPERIL FINANCIAL SECURITY http://www.pbs.org/newshour/bb/business/jan-june14/farzad_01-11.html
New York Times, January 06, 2014
▶ IN JOBLESS YOUTH, U.S. IS SAID TO PAY HIGH PRICE http://www.nytimes.com/2014/01/07/business/economy/in-jobless-youth-nation-is-said-to-pay-high-price.html?_r=0
Newshour PBS Business Desk, January 07, 2014
▶ WHO COUNTS AS POOR IN AMERICA? http://www.pbs.org/newshour/businessdesk/2014/01/who-counts-as-poor-in-america.html
VIDEO REPORT
PBS Newshour, January 08, 2014
50 YEARS ON, WHAT STRIDES HAVE MADE IN THE WAR ON POVERTY? http://www.pbs.org/newshour/bb/government_programs/jan-june14/poverty_01-08.html
World Watch Institute, January 10, 2014
▶ 80TH ANNIVERSARY OF GDP AND GLOBAL ECONOMY GROWING MAY BE LEAVING WELL-BEING BEHIND http://www.worldwatch.org/global-economy-growing-may-leave-well-being-behind
Al Jazeera America, December 11, 2013
▶ HARDWORKING YET STILL HOMELESS IN TODAY' AMERICA - 3.5 MILLION http://america.aljazeera.com/articles/2013/12/11/homelessness-hungerreportmayors.html
WATCH
"POOR KIDS"
PBS Frontline Investigation
FRONTLINE explores the economic crisis as it's rarely seen: through the eyes of children http://www.pbs.org/wgbh/pages/frontline/poor-kids/
NEWS REPORT
PBS Newshour, January 11, 2014
POVERTY RATES SURGE IN AMERICAN SUBURBS http://www.pbs.org/newshour/bb/nation-jan-june14-povertysuburb_01-11/
CSRWire, December 12, 2013
▶ AMID DEBATE OVER MINIMUM WAGE, NEW REPORT SHOWS TAXPAYERS SUBSIDIZE CORPORATE PAY http://www.csrwire.com/blog/posts/1144-amid-debate-over-minimum-wage-new-report-shows-taxpayers-subsidize-corporate-pay
WATCH
Moyers and Company
▶ HUNGER, OBESITY AND SOARING CORPORATE PROFITS
▶ PASSING THE BUCK: MORE THAN HALF OF U.S. FAST FOOD WORKER ON PUBLIC AID, REPORT SAYS http://sco.lt/7sWeQL
▶ FOOD, SLAVE LABOR AND THE WALMARTIZATION OF AMERICA http://sco.lt/78eyx7
CCTV America, December 25, 2013
▶ NON-PROFIT GROCERY STORES: AN OASIS IN ONE CITY'S "FOOD DESERT" http://english.cntv.cn/program/bizasiaamerica/20131225/102827.shtml
The Guardian, December 10, 2013
▶ UK WELFARE REFORMS CUT FOOD BUDGETS TO AS LOW AS £20 A WEEK http://www.theguardian.com/society/2013/dec/10/welfare-reforms-cut-family-food-budgets?CMP=EMCSOCEML657
Just Means, December 13, 2013
-▶ THE B CORP REVOLUTION: INVESTING FROM THE HEART http://www.justmeans.com/blogs/the-b-corp-revolution-investing-from-the-heart
EXPLOSIVE REPORT
▶ 'ALEC' , CORPORATIONS AND STATE LEGISLATURES PLATFORM PLAN US-WIDE ASSAULT ON EDUCATION, HEALTHCARE, INCOME TAX AND ENVIRONMENT
Conservative groups and State Legislatures across the US are planning a co-ordinated assault against public sector rights and services in the key areas of education, healthcare, income tax, workers' compensation and the environment, documents obtained by the Guardian reveal. http://sco.lt/6dyHEf
Common Dreams, November 1, 2013
▶ HOW ECONOMIC GROWTH HAS BECOME ANTI-LIFE http://www.commondreams.org/view/2013/11/01-2
▶ "CAN WE SHOP TO END POVERTY" With Ananya Roy
Global Envision: Exploring Market-driven Solutions to Poverty
http://www.globalenvision.org/2013/08/06/%E2%80%9Ccan-we-shop-end-poverty%E2%80%9D
- YouTube http://www.youtube.com/watch?v=mpuf-N66CGI
Nation of Change, December 15, 2013
▶ THE SORRY SECRET OF U.S. HIGHER EDUCATION: A GROWING NUMBER OF ACADEMIC POOR http://www.nationofchange.org/poor-educational-system-1387120017
VIDEO
▶ "WHO SEES POVERTY"
With Ananya Roy, UC Berkeley - YouTube
http://www.youtube.com/watch?v=hrW8ier__4Q
WATCH (56:27)
STEALING AFRICA: WHY POVERTY?
HOW MUCH PROFIT IS FAIR?
https://www.youtube.com/watch?v=WNYemuiAOfU
World Watch Institute
▶ WHEN CORPORATIONS GO BAD: THE EVOLVING CORPORATION http://www.worldwatch.org/node/575
▶ INDIA MANDATES WORLD'S FIRST CORPORATE CHARITABLE GIVING LAW http://sco.lt/86m7If
▶ WHY SOCIAL RESPONSIBILITY SHOULD BE PART OF EVERY BUSINESS http://sco.lt/4tfKhV
▶ MORALITY IS MISSING FROM THE DEBATE ABOUT SUSTAINABLE BEHAVIOUR http://sco.lt/4sveFd
WATCH
More Videos From The #GlobalPOV Project
University of California, Berkeley
http://www.youtube.com/watch?v=0deJfPUj1f8#t=267
▶ "WILL HOPE END INEQUALITY? With Genevieve Negrón Gonzales https://www.youtube.com/watch?v=KmtfIWLvt_Q
▶ A 21st CENTURY COOPERATIVE WAY TO A FLOURISHING FUTURE: SELF-SUFFICIENT COMMUNITIES http://sco.lt/8roT21
▶ FOOD AID FOR THE 21st CENTURY: MEETING THE OBJECTIVE OR FEEDING THE CORPORATE COFFERS? http://sco.lt/6jtrlJ
▶ THE INDUSTRIAL MILITARY COMPLEX MINDSET AND CSR: SHARING AND COOPERATION v COMPETITION AND ENDLESS CONSUMPTION http://sco.lt/5jRulN
Project Syndicate, November 3, 2013
▶ THE BUSINESS OF BUSINESS IS MORE THAN BUSINESS by Laura Tyson - http://www.project-syndicate.org/commentary/on-why-companies-must-pursue-more-than-profit-maximization-by-laura-tyson
June 30, 2014 Global Possibilities
▶ AMERICA'S POOR ARE DEMONIZED TO JUSTIFY HUGE CUTS IN GOVERNMENT PROGRAMS WHILE FUNDING CORPORATE WELFARE http://www.globalpossibilities.org/greg-kaufman-americas-poor-are-demonized-to-justify-huge-cuts-in-govt-prgrams/
Inter Press Service, October 9, 2013
▶ UN: WALKING AN ECONOMIC TIGHTROPE WITH NO SAFETY NET
- With the richest one percent of the population now owning 40 percent of global assets, and the bottom half sharing just one percent, inequality is fast being recognised as a stubborn underlying obstacle to development... http://www.ipsnews.net/2013/10/walking-an-economic-tightrope-with-no-safety-net/
Guardian Global Development, September 20, 2013
▶ NGOs NO LONGER SET THE AGENDA FOR CSR AND DEVELOPMENT, SAY CEOS
The joint CEO/NGO study from the UN Global Compact and Accenture report shows a business community largely committed to sustainability issues, with 93% of respondents saying that environmental, social and governance issues are important to the future of their business. There is also a clear broadening of private sector ambition away from the more traditional CSR issues towards wider global development concerns.
A vast majority (84%) of CEOs believe that business should lead efforts to define and deliver new goals on global priority issues and 16% include poverty eradication among their top three sustainability priorities. http://www.theguardian.com/global-development-professionals-network/2013/sep/20/ngos-no-longer-set-agenda-development?CMP=twt_gu
▶ BUSINESS SHOULD CONTRIBUTE TO SOCIAL HEALTH AND WELL BEING OF THEIR LOCAL COMMUNITIES http://sco.lt/8aEijR
▶ INNOVATION FOR A COMPLEX WORLD: PROMOTING THE WELL BEING OF HUMANITY http://sco.lt/5Z51bV
▶ THE PUBLIC-PRIVATE PARTNERSHIP: PRIVATIZING EVERYTHING http://sco.lt/8iO36X
▶ THE TRAGEDY OF THE MARKET, THE PROMISE OF THE COMMONS http://sco.lt/9A468P
Nation of Change, December 30, 2013
▶ THE SHOCKING REDISTRIBUTION OF WEALTH IN THE PAST FIVE YEARS http://www.nationofchange.org/shocking-redistribution-wealth-past-five-years-1388413951
-▶ THE NEW CORPORATE COLONIALISM. DESTRUCTION OF PLANETARY LIFE, INDIGENOUS LAND AND LIVELIHOODS IN THE NAME OF "GROWTH" http://sco.lt/5nT3OT
WATCH (56:27)
STEALING AFRICA: WHY POVERTY?
HOW MUCH PROFIT IS FAIR?
https://www.youtube.com/watch?v=WNYemuiAOfU
-▶ LAND GRABS: HOW FOREIGN "INVESTMENTS" ARE REDISTRIBUTING WEALTH, LAND AND WATER RIGHTS ACROSS THE GLOBE http://sco.lt/96H2yv
▶ 2012 IN RETROSPECT: AN OPEN LETTER TO HUMANITY, FROM MOTHER EARTH - Danielle Lanyard CSR Wire http://www.csrwire.com/blog/posts/638-2012-in-retrospect-an-open-letter-to-humanity-from-mother-earth
▶ ENOUGHNESS: WESTERN THOUGHT vs INDIGENOUS PHILOSOPHY http://sco.lt/6EFbPt
June 17, 2013 Guardian Global Development - John Vidal
▶ A VOICE FOR THE POOR: LA VIA CAMPESINA, WORLD'S LARGEST POLITICAL MOVEMENT, TO CHALLENGE MULTI-NATIONALS ON POVERTY AND INEQUALITY
'"We have no choice but to change the system"
http://www.guardian.co.uk/global-development/2013/jun/17/la-via-campesina-henry-saragih?CMP=EMCGBLEML1625
▶ THE WORLD IS SITTING ON A CONSUMPTION TIME BOMB http://sco.lt/7sR3eT
▶ BUSINESS AND HUMANITY ARE NOT SEPARATE FROM NATURE http://sco.lt/8gLwmH
▶ ECO-SPIRITUALITY: TOWARDS A VALUES-BASED ECONOMIC STRUCTURE http://sco.lt/7tcgQj
▶ AN AWKWARD TRUTH: BANGLADESH FACTORIES A WAY UP FOR WOMEN (THE BANGLADESH FACTORY COLLAPSE: WHY CORPORATE SOCIAL RESPONSIBILITY IS MORE IMPORTANT THAN EVER
Forbes, October 17, 2013
▶ CAN WOMEN LEAD THE SOCIAL ENTERPRISE REVOLUTION? http://www.forbes.com/sites/yec/2013/10/17/can-women-lead-the-social-enterprise-revolution/
CSRwire Talkback, Hazel Henderson, November 1, 2013
▶ THE UNITED NATIONS IS STILL INDISPENSABLE !
The meeting of the UN Global Compact's Leadership Summit in September showcased women's leadership, bringing sustainability values into business schools and promoting human empowerment.... http://www.csrwire.com/blog/posts/1087-the-united-nations-is-still-indispensable
VIDEO
Philippines:
▶ CORPORATE HUBRIS AND MILITARY FORCES TAKE AND DESTROY INDIGENOUS LANDS, LIVELIHOODS AND FORESTS..... SIMPLY FOR PROFIT http://sco.lt/5XuIld
▶ ESSAY: ECOLOGY IS THE MEANING OF LIFE: EMBRACING A SENSE OF "ENOUGHNESS" http://sco.lt/67IGXZ
▶ ERADICATING ECOCIDE AND GENOCIDE: WHY BUSINESS LEADERS MUST STEP UP TO THE CHALLENGE http://sco.lt/56vkOH
VIDEO
FOREIGN CORPORATIONS DESTROYING ECOSYSTEMS, INDIGENOUS LIVELIHOODS, NULLIFYING LAND RIGHTS, CREATING DEPENDENCY AND POVERTY ON A GLOBAL SCALE http://sco.lt/4l725B