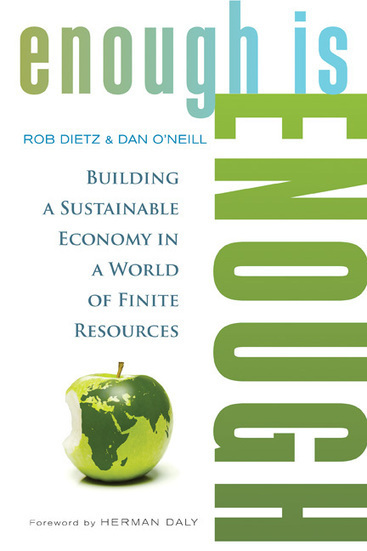 Feb 25, 2012 Common Dreams
-▶ To build a successful economy of enough, we would first need to eliminate the "growth imperative"—...
.....The thinking is that if we could just get people to produce and consume more stuff, then we could also pay off the debt, create jobs, eradicate poverty, and maybe even have some money left over to clean up the environment.
It's tempting to believe this economic fairy tale. But if growth is the cure to all of our ills, why are we in such a bind after sixty years of it? Even though the U.S. economy has more than tripled in size since 1950, surveys indicate that people have not become any happier. Inequality has risen sharply in recent years, and jobs are far from secure. At the same time, increased economic activity has led to greater resource use, dangerous levels of carbon dioxide in the atmosphere, and declining biodiversity. There is now strong evidence that economic growth has become uneconomic in the sense that it costs more than it's worth.
Maybe it's time to consider a new strategy—an economy of enough http://www.commondreams.org/view/2013/02/25-1
The Guardian, April 08, 2014
▶ HAPPINESS AND WELL BEING TRUMP MATERIAL AND GDP GROWTH: http://www.theguardian.com/sustainable-business/blog/happiness-wellbeing-bhutan-gus-odonnell-policy
ANIMATED VIDEO
GROWTH IS NOT ENOUGH
Published on Mar 25, 2014
https://www.youtube.com/watch?v=2_AMEAnWyRk
Our politicians are hung up on keeping the growth curve rising. But does GDP really tell us all we need to know about a country's wealth and well-being? In this new RSA Short, Kate Raworth makes a powerful argument to look beyond economic growth alone for a true measure of prosperity and progress.
Kate Raworth is a renegade economist teaching at Oxford University, and is focused on the rewriting of economics to make it a fit tool for addressing the 21st century's social and ecological challenges. She blogs on Doughnut Economics at http://www.kateraworth.com and tweets @KateRaworth
The Guardian, George Monbiot December 9, 2013
▶MATERIALISM: A SYSTEM THAT EATS US FROM THE INSIDE OUT http://www.theguardian.com/commentisfree/2013/dec/09/materialism-system-eats-us-from-inside-out
Guardian April 08, 2014, George Monbiot
-▶ HOW HAVE THESE CORPORATIONS COLONIZED OUR PUBLIC LIFE? Power is shifting: to places in which we have no voice or vote. Domestic policies are forged by special advisers and spin doctors, by panels and advisory committees stuffed with lobbyists http://www.theguardian.com/commentisfree/2014/apr/08/corporations-public-life-unilever
Guardian Environment, March 28, 2014
-▶ THICH NHAT HANH: IS MINDFULNESS BEING CORRUPTED BY BUSINESS AND FINANCE? The Zen master discusses his advice for Google and other tech giants on being a force for good in the world http://www.theguardian.com/sustainable-business/thich-nhat-hanh-mindfulness-google-tech
▶ GROSS NATIONAL HAPPINESS: THE BIG IDEA FROM TINY STATES THAT CHANGE THE WORLD http://sco.lt/7aZ09h
-▶ BUSINESS DOING GOOD: A GUIDE TO CORPORATE CITIZENSHIP http://sco.lt/5SlJVh
WATCH
NHK World English, March 11, 2014
TRADING HAPPINESS FOR WEALTH: MATERIALISM, DEPRESSION AND YOUTH SUICIDE http://www3.nhk.or.jp/nhkworld/newsline/201403111316.html
Toronto Sustainability, David Suzuki, March 09, 2014
-▶ MEASURING BLIND GROWTH (GDP) IS A FLAWED APPROACH: A SUSTAINABLE ECONOMY WILL MEASURE WELL-BEING http://ecoopportunity.net/2014/03/measuring-blind-growth-gdp-is-a-flawed-approach-a-sustainable-economy-will-measure-wellbeing/
World Watch Institute, January 10, 2014
▶ GROWING GDP AND GLOBAL ECONOMY MAY BE LEAVE WELL-BEING BEHIND http://www.worldwatch.org/global-economy-growing-may-leave-well-being-behind
Upside, February 28, 2013
▶ A CORPORATION SHOULD BE MORE THAN A MONEY COW. We need a new market system according to Pavan Sukhdev, founder/CEO of GIST Advisory. A market that is not set on just financial success but for once focuses on the whole picture http://www.upsides.com/2013/02/28/why-a-corporation-should-be-so-much-more-than-a-money-cow/
WATCH:
CBS News, 60 Minutes, March 28, 2014
THE WALL STREET CASINO:
IS THE U.S. STOCK MARKET RIGGED?
THE "FLASH BOYS"
http://www.cbsnews.com/news/is-the-us-stock-market-rigged/
FastCoExist,
- ▶ SHAKING UP THE CORPORATE STRUCTURE TO GO BEYOND THE PROFIT MOTIVE. A company that can give up profits to increase its value to society and not get slammed by stockholders--it could happen http://www.fastcoexist.com/3024770/world-changing-ideas/a-public-company-will-become-a-benefit-corporation
- ▶ ZEN MASTER THICH NHAT HANH: OUR SEARCH FOR FAME, WEALTH, POWER IS OUR DOWNFALL http://sco.lt/7AqFkn
AATTP, March 26, 2014
-▶ THINK YOU HAVE CHOICES? THINK AGAIN: THESE CORPORATIONS CONTROL THE WORLD http://aattp.org/think-you-have-choices-think-again-these-corporations-control-the-world/
Our Finite World, October 31, 2013
-▶ SUSTAINABILITY: HOW HUMANS' ECONOMY DIFFERS FROM NATURES' http://ourfiniteworld.com/2013/10/31/sustainability-how-humans-economy-differs-from-natures/
On The Commons
-▶ A BRIEF HISTORY OF HOW WE LOST THE COMMONS - AND WHAT WE MUST DO TO GET IT BACK http://www.onthecommons.org/magazine/brief-history-how-we-lost-commons
EMagazine, February 11, 2013
-▶ IT'S ABOUT MORE THAN JOBS: Jeffrey Hollender
Building a Sustainable Economy Requires Changes on Many Fronts http://www.emagazine.com/blog/its-about-more-than-jobs/
▶ECONOMIC SUCCESS ALONE IS NOT ENOUGH TO IMPROVE OUR WELL BEING http://sco.lt/7J7VnF
BUSINESS DOING GOOD: A GUIDE TO CORPORATE CITIZENSHIP http://sco.lt/5SlJVh
Truthout, January 15, 2014
-▶ BEYOND GROWTH OR BEYOND CAPITALISM? http://www.truth-out.org/news/item/21215-beyond-growth-or-beyond-capitalism
SF Gate, January 4, 2014
-▶ DO WE NEED RELENTLESS, ENDLESS ECONOMIC GROWTH?
Critics question desirability of relentless economic growth. Ecologists warn that economic growth is strangling the natural systems on which life depends, creating not just wealth, but filth on a planetary scale. Carbon pollution is changing the climate. Water shortages, deforestation, tens of millions of acres of land too polluted to plant, and other global environmental ills are increasingly viewed as strategic risks by governments and corporations around the world.
"The physical pressure that human activities put on the environment can't possibly be sustained," said Stanford University ecologist Gretchen Daily, who is at the forefront of efforts across the world to incorporate "natural capital," the value of such things as water, topsoil and genetic diversity that nature provides, into economic decision-making. ... http://www.sfgate.com/default/article/Critics-question-desirability-of-relentless-5114217.php
Guardian Sustainable Business, January 14, 2014
- ▶ THE GLOBAL RECESSION WAS A GOOD THING FOR SUSTAINABILITY: The financial crash helped raise the bar for corporate sustainability; recent economic growth must not be used to renew the validity of the old system http://www.theguardian.com/sustainable-business/global-recession-good-for-sustainable-business
-▶ TRANSFORMING BUSINESS FOR TOMORROW'S WORLD - THE END OF GDP GROWTH http://sco.lt/96N2C9
-▶ CONSUMING OUR WAY TO PROSPERITY, OR OUT OF EXISTENCE? http://sco.lt/8TbhgH
Mongabay, December 10, 2013
-▶ AVERAGE AMERICAN CONSUMES 50,000 POUNDS OF RAW MATERIALS ANNUALLY FOR THE STUFF THEY BUY http://news.mongabay.com/2013/1210-dimitrova-raw-materials.html
The Guardian, November 1, 2013
-▶ HOW ECONOMIC GROWTH HAS BECOME ANTI-LIFE - Vandana Shiva
An obsession with growth has eclipsed our concern for sustainability, justice and human dignity. But people are not disposable – the value of life lies outside economic development http://www.theguardian.com/commentisfree/2013/nov/01/how-economic-growth-has-become-anti-life
Harvard Business Review
-▶ MAKING THE CHOICE BETWEEN MONEY AND MEANING: THE PURSUIT OF HAPPINESS http://sco.lt/8Zzbyz
VIDEO
INTRODUCING THE CIRCULAR ECONOMY
Decoupling Growth from Resource Use
http://www.scoop.it/t/environmental-and-human-health/p/3995689446/davos-2013-introducing-the-circular-economy-video-decoupling-growth-from-resource-use
February 13, 2013
-▶ PATAGONIA PLANS GLOBAL CAMPAIGN FOR RESPONSIBLE CAPITALISM http://www.scoop.it/t/environmental-and-human-health/p/3996868912/patagonia-plans-global-campaign-for-responsible-capitalism
-▶ COMPANIES MUST STEP UP TO INCLUDE SOCIAL GOALS IN CORPORATE DECISIONS http://sco.lt/5Far6P
-▶ INNOVATION FOR A COMPLEX WORLD: PROMOTING THE WELL BEING OF HUMANITY http://sco.lt/5Z51bV
Atlantic Cities, October 31, 2013
-▶ THE SHARING ECONOMY: THE RISE OF INVISIBLE WORK http://www.theatlanticcities.com/jobs-and-economy/2013/10/rise-invisible-work/7412/
▶ ENTREPRENEURS SUCCEED BY GIVING BACK http://www.businessinsider.com/sc/entrepreneurs-succeed-by-giving-back-2013-10
IUCN International -
-▶ WORLD BANK RECOGNIZES NEED TO POSITION NATURE AT THE FOUNDATION OF ECONOMIC STRATEGIES https://portals.iucn.org/blog/2012/09/08/the-world-bank-is-serious-about-nature-conservation/
-▶ A GREEN COMMONS-BASED GOVERNANCE: THE RIGHT TO A CLEAN AND HEALTHY ENVIRONMENT FOR ALL SPECIES http://sco.lt/8qokwj
-▶ UN BIODIVERSITY REPORT CALLS FOR GLOBAL ACTION TO PREVENT DESTRUCTION OF NATURE http://www.guardian.co.uk/environment/2010/may/21/un-biodiversity-economic-report
-▶ WHO OWNS NATURE? CORPORATE POWER AND THE FINAL FRONTIER IN THE COMMODIFICATION OF LIFE http://www.scoop.it/t/agriculture-gmos-pesticides/p/2299601530/who-owns-nature-corporate-power-and-the-final-frontier-in-the-commodification-of-life
Transition Network
▶ HOW DIFFERENT THE WORLD WOULD BE IF WE PAID THE TRUE COST OF FOOD AND FARMING? http://www.transitionnetwork.org/blogs/rob-hopkins/2013-12/how-different-would-world-be-if-we-paid-true-cost-food-and-farming
The Ecologist, December 12, 2013
-▶ WHAT PRICE NATURE? : If the world is to feed a growing population against a backdrop of climate change and biodiversity loss, argues Charles Windsor, we must calculate in the cost of the damage we are causing to soils, water, climate and ecosystems... http://www.theecologist.org/blogs_and_comments/commentators/2194757/we_must_put_a_price_on_nature.html
-▶ WHY THE ECONOMY NEEDS NATURE http://sco.lt/6WP6On
WATCH
PBS Nature Full Episode
MONETIZING THE COMMONS: THE DEPLETION OF NATURE
"THE MYSTERY OF THE EELS"
A Billion Dollar Industry as Population Plunges
130,000 Tons of Eeels Consumed in Japan Alone Each Year: http://www.pbs.org/wnet/nature/episodes/the-mystery-of-eels/preview/8239/
-▶ WE MAY BE THE LAST GENERATION TO EAT FISH FROM THE SEA: The LOSS OF OCEAN SPECIES IS STAGGERING http://sco.lt/61gcWf
The Guardian, August 12, 2012
-▶ THE PRELUDE TO THE GREATEST PRIVATISATION SINCE ENCLOSURE: PUTTING A PRICE ON THE RIVER AND RAIN -George Monbiot http://www.theguardian.com/commentisfree/2012/aug/06/price-rivers-rain-greatest-privatisation
Guardian, November 27, 2013
-▶ PUTTING A PRICE ON NATURE WOULD BE DISASTROUS http://www.theguardian.com/global-development/poverty-matters/2013/nov/27/price-nature-markets-natural-capital
-▶ BRINGING NATURE BACK INTO YOUR LIFE ... AND THE WORK PLACE http://sco.lt/83sf2H
-▶ THE INDUSTRIAL MILITARY COMPLEX MINDSET AND CSR: SHARING AND COOPERATION vs COMPETITION AND ENDLESS CONSUMPTION http://sco.lt/5EXUv3
Guardian, November 11, 2013, George Monbiot
-▶ IT'S BUSINESS THAT REALLY RULES US NOW: CORPORATE INTERESTS HAVE CAPTURED THE ENTIRE DEMOCRATIC PROCESS http://www.theguardian.com/commentisfree/2013/nov/11/business-rules-lobbying-corporate-interests
-▶ ON THE BACKS OF THE POOR : 2012 CORPORATE PROFITS HIT RECORD HIGH WHILE WORKER WAGES HIT RECORD LOW http://sco.lt/64Y1Tt
Guardian Sustainable Hub: October 28, 2013
-▶ IS SUSTAINABILITY A DANGEROUS MYTH FUELING OVER CONSUMPTION http://www.theguardian.com/sustainable-business/sustainability-dangerous-myth-over-consumption
-▶ THE COLLABORATIVE ECONOMY IS EXPLODING http://sco.lt/5QA4vJ
Feb 14 2013 Sustainable Brands
-▶ CALLING FOR AN END TO MASS CONSUMPTION - Guerrilla Fashion Week Campaign http://www.sustainablebrands.com/news_and_views/articles/guerrilla-fashion-week-campaign-calls-end-mass-consumption
WATCH
"MONEY AND LIFE - ECOLOGIZE GROWTH"
http://www.karmatube.org/videos.php?id=2473
-▶ WORLD BECOMING UNGOVERNABLE : REPORT: Business as "Responsible" as Government for Driving Ethical Social Change http://www.scoop.it/t/environmental-and-human-health/p/3995523720/report-business-as-responsible-as-government-for-driving-ethical-social-change
-▶ THE WORLD IS SITTING ON A CONSUMPTION TIME BOMB http://sco.lt/7sR3eT
-▶ SLEEPWALKING TO EXTINCTION: CAPITALISM AND THE CONSUMER ECONOMY http://sco.lt/9EPNkf
-▶ ERADICATING ECOCIDE: WHY BUSINESS LEADERS MUST STEP UP TO THE CHALLENGE http://sco.lt/7uGWKv
Paul Gilding, February 2012
-▶ WILL MARKETS SURVIVE THE END OF GROWTH? http://paulgilding.com/cockatoo-chronicles/will-markets-survive-the-end-of-growth.html
WATCH
-▶ "THE STORY OF SOLUTIONS"
Latest from Annie Leonard's "Story of Stuff"
Resolving the "Game of More"
January 14, 2013 Forbes
-▶ BEST PRACTICES - AREN'T http://ow.ly/i2RwT Business is fluid, dynamic, and ever-evolving - http://www.forbes.com/sites/mikemyatt/2012/08/15/best-practices-arent/
-▶ RECLAIMING OUR IMAGINATIONS FROM 'THERE IS NO ALTERNATIVE' http://www.scoop.it/t/environmental-and-human-health/p/3995512434/reclaiming-our-imaginations-from-there-is-no-alternative
-▶ NEW ECONOMIC MODEL NEEDED -- NOT RELENTLESS CONSUMER DEMAND http://www.scoop.it/t/environmental-and-human-health/p/3995197612/new-economic-model-needed-not-relentless-consumer-demand
VIDEO
-▶ "WHO PROFITS FROM POVERTY? - DOING GOOD RESPONSIBLY http://sco.lt/6cjhdh
-▶ PASSING THE BUCK: MORE THAN HALF OF U.S. FAST FOOD WORKERS ARE ON PUBLIC AID http://sco.lt/7sWeQL
Triple Pundit, November 1, 2013
-▶ DOZENS OF LARGE U.S. CORPORATIONS AVOIDED TAXES ALL TOGETHER IN 2012 http://www.triplepundit.com/2013/10/dozens-large-corporations-avoided-taxes-altogether-2012/
-▶ THE UNITED STATES OF SUBSIDIES - INVESTIGATION - CORPORATE WELFARE OR ECONOMIC GROWTH? http://sco.lt/7o0mEj
A HAIR-RAISING VIDEO EXPOSE
"Stealing Africa - Why Poverty? How Much Profit Is Enough"
- ▶ ECONOMIC SUCCESS ALONE IS NOT ENOUGH TO IMPROVE OUR WELL BEING http://sco.lt/7J7VnF
-▶ TREE HEALTH LINKED WITH HUMAN HEALTH - OUR INTERCONNECTED LIVES http://sco.lt/85WZ2v
-▶ MONEY REALLY DOES GROW ON TREES http://sco.lt/68WAIz
-▶ ZEN MASTER THICH NHAT HANH: OUR SEARCH FOR FAME, WEALTH, POWER IS OUR DOWNFALL http://www.scoop.it/t/environmental-and-human-health/p/3995297959/zen-master-thich-nhat-hanh-our-search-for-fame-wealth-power-is-our-downfall
-- WATCH --
"HOME"
An Exquisite Story of Our Planet
http://thenaturaleye.wordpress.com/2011/03/26/home-an-exquisite-story-of-our-world/