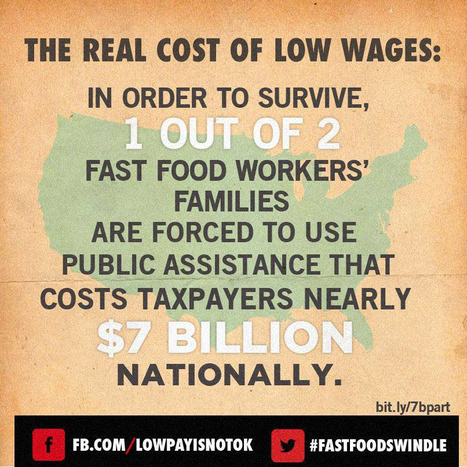 Huffington Post, March 09, 2015
▶ McDONALD'S AND FRIENDS SUE SEATTLE TO STOP MINIMUM WAGE HIKE http://www.huffingtonpost.com/ron-fein/the-mcdonalds-sue-minimum-wage-hike_b_6809736.html
Los Angeles Times, October 15, 2013
▶ MULTI-NATIONAL FAST FOOD COMPANIES: MORE THAN HALF OF U.S. FAST FOOD WORKERS ON PUBLIC ASSISTANCE, REPORT SAYS
More than half of families of fast food workers receive some sort of public assistance, costing the nation $7 billion a year, according to a new report distributed by a group that has been pushing for union representation and higher wages for fast food workers...
The report calculates that about $3.9 billion a year is spent on Medicaid and children's healthcare for fast food workers and their families. Families also receive $1.04 billion in food stamp benefits and $1.91 billion from the federal government through the earned income tax credit. Even those workers who are on a 40-hour-a-week schedule receive benefits; more than half of those families are enrolled in public assistance programs, the report says.... http://www.latimes.com/business/money/la-fi-mo-fast-food-minimum-wage-20131014,0,1971900.story
Mother Jones, December 04, 2014
▶ CHARTS: WHY FAST-FOOD WORKERS ARE GOING ON STRIKE http://www.motherjones.com/politics/2013/12/fast-food-strike-minimum-wage
VIDEO REPORT
PBS NewsHour, September 05, 2014
MORE PART-TIME WORKERS SUFFER INSTABILITY, LONG HOURS TO MAKE ENDS MEET -- AS WALL STREET STOCK MARKET SOARS
http://www.pbs.org/newshour/bb/new-job-growth-doesnt-indicate-strong-labor-market/
VIDEO REPORT
Democracy Now, September 05, 2014
HUNDREDS ARRESTED AS GROWING FAST-FOOD WORKERS' MOVEMENT STRIKES FOR LIVING WAGE, UNIONIZATION
http://www.democracynow.org/2014/9/5/hundreds_arrested_as_growing_fast_food
Common Dreams, December 4, 2013
▶ U.S. WORKERS DEMAND LIVABLE WAGE IN HUNDRED-CITY STRIKE, MOVEMENTS LARGEST DEMONSTRATION YET http://www.commondreams.org/headline/2013/12/04-9
The New Yorker, September 15, 2014 Edition
▶ DIGNITY: INSIDE THE FAST-FOOD LABOR PROTESTS.
Fast-food workers and a new form of labor activism http://www.newyorker.com/magazine/2014/09/15/dignity-4
Care2, December 04, 2012
▶ EMPLOYEES AT BILLION DOLLAR COMPANIES FIGHT FOR A LIVING WAGE http://www.care2.com/causes/employees-at-billion-dollar-companies-fight-for-a-living-wage.html#ixzz2E8i9llUX
June 29, 2013
▶ CORPORATE PROFITS SOAR AS AMERICANS STRUGGLE TO GET BY http://www.addictinginfo.org/2013/06/29/corporate-profits-soar-as-americans-struggle-to-get-by/
The Nation, March 31, 2014
▶ $2.13 AN HOUR? WHY THE U.S. TIPPED MINIMUM WAGE HAS TO GO . Exploring the world of work, from the order to the barricades http://www.thenation.com/blog/179087/213-hour-why-tipped-minimum-wage-has-go#
June 30, 2014 Global Possibilities
▶ AMERICA'S POOR ARE DEMONIZED TO JUSTIFY HUGE CUTS IN GOVERNMENT PROGRAMS WHILE FUNDING CORPORATE WELFARE http://www.globalpossibilities.org/greg-kaufman-americas-poor-are-demonized-to-justify-huge-cuts-in-govt-prgrams/
CSRWire, December 12, 2013
▶ AMID DEBATE OVER MINIMUM WAGE, NEW REPORT SHOWS TAXPAYERS SUBSIDIZE CORPORATE PAY http://www.csrwire.com/blog/posts/1144-amid-debate-over-minimum-wage-new-report-shows-taxpayers-subsidize-corporate-pay
Institute for Policy Studies, December 02, 2013
▶ FAST FOOD CEOs RAKE IN TAXPAYER-SUBSIDIZED PAY http://www.ips-dc.org/reports/fast-food_ceos_rake_in_taxpayer-subsidized_pay
Common Dreams, December 4, 2013
▶ BALANCING BUDGETS ON THE BACKS OF THE POOR
'AMERICANIZATION' LEADING THE WAY ... IN ATTACK ON WORKERS http://www.commondreams.org/headline/2013/12/04
Harvard Business Review, December 16, 2013
▶ IT'S NOT OK THAT YOUR EMPLOYEES CAN'T AFFORD TO EAT http://blogs.hbr.org/2013/12/scrooge-is-alive-and-well/
September 11, 2013 CSRWire
▶ THE BUSINESS SOLUTION TO POVERTY: CAN ANYONE SURVIVE ON CRUMBS http://www.csrwire.com/blog/posts/1010-the-business-solution-to-poverty-can-anyone-survive-on-crumbs
TakePart, October 23, 2013
▶ McDONALD'S RECOMMENDS "SNAP" (FOOD STAMPS) AND MEDICAID TO HELP EMPLOYEES WITH LOW WAGES AND BENEFITS http://www.takepart.com/article/2013/10/23/mcdonalds-recommends-federal-assistance-help-low-wages-and-benefits
AlterNet, October 15, 2013
▶ FAST FOOD GIANTS MAKE BILLIONS WHILE THEIR WORKERS USE BILLIONS IN WELFARE BENEFITS http://www.alternet.org/corporate-accountability-and-workplace/fast-food-giants-make-billions-while-workers-welfare
WATCH
▶ SUPER-SIZING WELFARE COSTS ▶
Democracy Now, October 18, 2013
▶ LOW WAGES AT McDONALD'S, BURGER KING COST TAXPAYERS BILLIONS. New research shows more than half of low-wage workers at fast-food restaurants rely on public assistance to survive – a rate double that of the overall workforce. According to researchers at the University of California, Berkeley, low wages in the fast-food industry cost American taxpayers nearly $7 billion every year – that's more than the entire annual budget of the Centers for Disease Control and Prevention. A companion report by the National Employment Law Project found McDonald's alone costs Americans $1.2 billion annually by paying its workers insufficient wages. Last year the top 10 largest fast-food companies alone made more than $7.4 billion in profits.http://www.democracynow.org/2013/10/18/super_sizing_welfare_costs_low_wages
VIDEO REPORT
August 2, 2013 Democracy Now
A $500 BILLION INDUSTRY WON'T PAY IT'S WORKERS A FAIR WAGE "We Are Slowly Dying": Fast-Food Workers Launch Strike for Living Wage and Right to Unionize http://www.democracynow.org/2013/8/2/we_are_slowly_dying_fast_food
FAST FOOD, SLOW DEATH
THE $500 BILLION GLOBAL CORPORATE FOOD MONOPOLY
July 2, 2013 Grist
▶ FAST FOOD AND FURIOUS: RESTAURANT WORKERS ARE STARVING ON MINIMUM WAGE OF $7.50 PER HOUR http://grist.org/food/the-fast-food-and-the-furious-restaurant-workers-are-fed-up-with-minimum-wage/
Campaign for America's Future, October16, 2013
▶ FAST FOOD WITH A SIDE OF POVERTY. AND WHAT IS COSTS US http://ourfuture.org/20131016/fast-food-with-a-side-of-poverty-and-what-it-costs-us
Al Jazeera America, December 11, 2013
▶ HARDWORKING YET STILL HOMELESS IN TODAY'S AMERICA - 3.5 MILLION http://america.aljazeera.com/articles/2013/12/11/homelessness-hungerreportmayors.html
WATCH
"POOR KIDS"
VIDEO INVESTIGATION - PBS Frontline
FRONTLINE explores the economic crisis as it's rarely seen: through the eyes of children http://www.pbs.org/wgbh/pages/frontline/poor-kids/
▶ ARE U.S. CORPORATIONS EXPLOITING THEIR WORKERS? http://www.aljazeera.com/programmes/insidestoryamericas/2012/11/20121121121853283410.html
▶ BUSINESSES ARE NOT JUST AGENTS OF CONSUMERISM BUT ALSO OF SOCIETY http://www.theguardian.com/sustainable-business/blog/business-agents-consumerism-society-customers?CMP=twt_gu
WATCH
Democracy Now, December 30, 2013
JOBLESS BENEFITS CUT FOR 1.3 MILLION, DESPITE HIGHEST LONG-TERM UNEMPLOYMENT SINCE WORLD WAR II http://www.democracynow.org/2013/12/30/jobless_benefits_cut_for_13_million
Nation of Change, October 19, 2013
▶ HOW TO REVERSE THE INCREASING RELIANCE OF LOW-WAGE WORKERS ON BILLIONS IN PUBLIC ASSISTANCE AND RESTORE ECONOMIC GROWTH http://www.nationofchange.org/how-reverse-increasing-reliance-low-wage-workers-billions-aid-and-restore-economic-growth-1382195936
Mother Jones, July/August Issue 2011
▶ OVERWORKED AMERICA: 12 CHARTS THAT WILL MAKE YOUR BLOOD BOIL http://www.motherjones.com/politics/2011/06/speedup-americans-working-harder-charts
OpEdNews, January 07, 2014
▶ THE DEVELOPING NEW AMERICAN CASTE SYSTEM http://www.opednews.com/articles/The-Developing-New-America-by-Sam-Amer-American-Crossroads_American-Exceptionalism_American-Foreign-Policy_American-World-Service-Corps-140107-718.html
Guardian, November 11, 2013, George Monbiot
▶ IT'S BUSINESS THAT REALLY RULES US NOW: CORPORATE INTERESTS HAVE CAPTURED THE ENTIRE DEMOCRATIC PROCESS http://www.theguardian.com/commentisfree/2013/nov/11/business-rules-lobbying-corporate-interests
WATCH
Moyers & Company
HUNGER, OBESITY AND SOARING CORPORATE PROFITS
=======================
VIDEO

======================
ON THE BACKS OF THE POOR
2012 CORPORATE PROFITS HIT RECORD HIGH WHILE WORKER WAGES HIT RECORD LOW http://sco.lt/64Y1Tt
======================
Inter Press Service, October 9, 2013
▶ WALKING AN ECONOMIC TIGHTROPE WITH NO SAFETY NET
UNITED NATIONS. With the richest one percent of the population now owning 40 percent of global assets, and the bottom half sharing just one percent, inequality is fast being recognised as a stubborn underlying obstacle to development.http://www.ipsnews.net/2013/10/walking-an-economic-tightrope-with-no-safety-net/
New York Times, January 06, 2014
▶ IN JOBLESS YOUTH, U.S. IS SAID TO PAY HIGH PRICE http://www.nytimes.com/2014/01/07/business/economy/in-jobless-youth-nation-is-said-to-pay-high-price.html?_r=0
Newshour PBS Business Desk, January 07, 2014
▶ WHO COUNTS AS POOR IN AMERICA? http://www.pbs.org/newshour/businessdesk/2014/01/who-counts-as-poor-in-america.html
WATCH
"POOR KIDS"
PBS Frontline Investigation
FRONTLINE explores the economic crisis as it's rarely seen: through the eyes of children http://www.pbs.org/wgbh/pages/frontline/poor-kids/
NEWS REPORT
PBS Newshour, January 11, 2014
POVERTY RATES SURGE IN AMERICAN SUBURBS http://www.pbs.org/newshour/bb/nation-jan-june14-povertysuburb_01-11/
Alternet, June 13, 2014
-▶ DEADLY NEW DEBTOR'S PRISONS: PENNSYLVANIA MOTHER DIES IN JAIL FOR TRUANCY FINES. CRIMINALIZING POVERTY. If you thought debtors prison was something straight out of Charles Dickens—and something long ago left behind us—think again. Debtors prison is becoming very much a part of the American prison-industrial complex. http://www.alternet.org/news-amp-politics/deadly-new-debtors-prisons-pennsylvania-mother-dies-jail-truancy-fines
CCTV America, December 25, 2013
▶ NON-PROFIT GROCERY STORES: AN OASIS IN ONE CITY'S "FOOD DESERT" http://english.cntv.cn/program/bizasiaamerica/20131225/102827.shtml
======================
SLAVE LABOR IN THE U.S.A
A VISIT TO THE ON-LINE WAREHOUSE OF SOUL-CRUSHING SADNESS: THE USA SHIPPING BUSINESS http://sco.lt/8HRSrZ
Naked Capitalism, Decembher 17, 2013
▶ AMAZON WAREHOUSE WORKERS STRIKE IN GERMANY
OVER PAY, SWEATSHOP CONDITIONS
http://www.nakedcapitalism.com/2013/12/amazon-warehouse-workers-strike-germany-pay-sweatshop-conditions.html
▶ FOOD, SLAVE LABOR AND THE WALMARTIZATION OF AMERICA http://sco.lt/78eyx7
▶ HOW THE JUNK FOOD INDUSTRY HAS ENCOURAGED US TO EAT OURSELVES TO DEATH -- WHILE MAKING BILLIONS http://sco.lt/8jsdeL
Common Dreams, Joseph Stiglitz
▶ THE INSANITY OF OUR FOOD POLICY http://www.commondreams.org/view/2013/11/17-3
▶ THE GREAT AMERICAN EXPORT - JUNK FOOD
China Will Soon Rule the World In Processed GMO Food Consumption http://sco.lt/6vvX85
FastCoExist
▶ 6 TIPS FOR HOW BUSINESSES CAN MAKE THEMSELVES MORE GENEROUS http://www.fastcoexist.com/1682602/6-tips-for-how-businesses-can-make-themselves-more-generous
▶ BUSINESS SHOULD CONTRIBUTE TO SOCIAL HEALTH AND WELL BEING OF THEIR LOCAL COMMUNITIES http://sco.lt/5Ktuuf
▶ ECONOMIC SUCCESS ALONE IS NOT ENOUGH TO IMPROVE OUR WELL BEING http://sco.lt/7J7VnF
▶ THE UNITED STATES OF ALEC : CORPORATIONS RUN THE WORLD, OUR POLITICS AND YOU AND I THROUGH CONSUMERISM http://sco.lt/4h5sBN
========================
MEET YOUR NEW LANDLORD
A WALL STREET CONTROLLED RENTAL MARKET AND RISING RENTS
THE SOCIETAL CONSEQUENCES
==========================
The New Yorker, September 15, 2014 Edition
▶ DIGNITY: INSIDE THE FAST-FOOD LABOR PROTESTS.
Fast-food workers and a new form of labor activism http://www.newyorker.com/magazine/2014/09/15/dignity-4