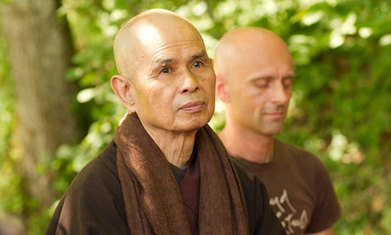 September 5, 2013 Guardian Sustainable Business
-▶ THE WISDOM OF ZEN MASTER THCH NHAT HANH
Why on earth are many of the world's most powerful technology companies, including Google, showing a special interest in an 87-year-old Vietnamese Zen Buddhist monk?
Global tech companies are connecting to the power of mindfulness and meditation in order to drive sustainability and happiness...
The answer is that all of them are interested in understanding how the teachings of Thich Nhat Hanh, or Thay as he is known to his hundreds of thousands of followers around the world, can help their organisations to become more compassionate and effective.
In a sign that the practice of mindfulness is entering the mainstream, Thay has been invited to run a full day's training session at Google's main campus in California...http://www.theguardian.com/sustainable-business/global-technology-ceos-wisdom-zen-master-thich-nhat-hanh
Guardian Environment, March 28, 2014
-▶ THICH NHAT HANH: IS MINDFULNESS BEING CORRUPTED BY BUSINESS AND FINANCE? The Zen master discusses his advice for Google and other tech giants on being a force for good in the world http://www.theguardian.com/sustainable-business/thich-nhat-hanh-mindfulness-google-tech
Strategy & Business, March 11, 2014
▶ THE IMPORTANCE OF BEING MINDFUL http://www.strategy-business.com/blog/The-Importance-of-Being-Mindful?gko=0653f
Forbes, March 11, 2014
▶ BECOME A MINDFUL LEADER: SLOW DOWN TO MOVE FASTER. GOOGLE IS.. http://www.forbes.com/sites/janbruce/2014/03/11/become-a-mindful-leader-slow-down-to-move-faster/
▶ GOOGLE'S "SEARCH INSIDE YOURSELF" PROGRAM http://www.mindful.org/mindfulness-practice/mindfulness-and-awareness/search-inside-yourself
May 21, 2013 Guardian Sustainable Business
▶ WHY GOOGLE AND SONY ARE TURNING TO NATURE TO INSPIRE THEIR LEADERS. Released from the banalities of the office, reconnecting with the outdoors can stimulate innovation... http://www.theguardian.com/sustainable-business/google-sony-nature-inspire-leaders
Upside, February 28, 2013
▶ A CORPORATION SHOULD BE MORE THAN A MONEY COW. We need a new market system according to Pavan Sukhdev, founder/CEO of GIST Advisory. A market that is not set on just financial success but for once focuses on the whole picture http://www.upsides.com/2013/02/28/why-a-corporation-should-be-so-much-more-than-a-money-cow/
Care2, January 31, 2014
▶ HOW THE GOOGLE BUS BECAME THE SYMBOL OF INEQUALITY IN AMERICA http://www.care2.com/causes/how-the-google-bus-became-the-symbol-of-inequality-in-america.html
Triple Pundit, January 6, 2014
▶ WHY THE GOOGLE BUS PROTESTS ARE A CORPORATE SUSTAINABILITY ISSUE http://www.triplepundit.com/2014/01/google-bus-protests-corporate-sustainability-issue/
Social Earth: October 17, 2013
▶ ANCIENT WISDOM AND THE NEXT ECONOMY:
It's not often in the middle of the workday, or at a business conference, you see a circle of colleagues in suits participating in a session of meditation practice. But that is exactly the type of activity some organizations, such as Google, are beginning to use to empower and de-stress employees. How much can this practice contribute to shifting organizations to the next low carbon economy?
http://www.socialearth.org/ancient-wisdom-practices-next-economy
GOOD.CO, November 3, 2013
-▶ INFOGRAPHIC: THE HIGH COST OF UNHAPPY EMPLOYEES http://www.good.co/blog/2013/11/13/high-cost-unhappy-employees-infographic/
-▶ BRINGING NATURE BACK INTO YOUR LIFE ... AND THE WORK PLACE http://sco.lt/83sf2H
-▶ HOW A SENSE OF SACRED CAN HELP SUSTAINABLE BUSINESS - RESTORING VALUES http://www.scoop.it/t/environmental-and-human-health/p/3994926408/how-a-sense-of-sacred-can-help-sustainable-business-restoring-values
September 9, 2013 Washington Post
-▶ HOW THE CULT OF SHAREHOLDER VALUE WRECKED AMERICAN BUSINESS http://www.washingtonpost.com/blogs/wonkblog/wp/2013/09/09/how-the-cult-of-shareholder-value-wrecked-american-business/
June 26, 2013 Guardian Sustainable Business
-▶ LEADERS NEED TO THINK ABOUT THE COMPASSIONATE CHOICE AND RIPPLE EFFECTS. Changing systems is essential for creating sustainable business, but so is embedding kindness into small decisions... http://www.theguardian.com/sustainable-business/leaders-compassionate-choice-ripple-effect
-▶ THE WORLD IS SITTING ON A CONSUMPTION TIME BOMB http://sco.lt/7sR3eT
-▶ ECO-SPIRITUALITY: TOWARDS A VALUES-BASED ECONOMIC STRUCTURE http://sco.lt/7tcgQj
November 9, 2012 Guardian Sustainable Business
-▶ MOMENTS OF REVELATION TRIGGER THE BIGGEST TRANSFORMATIONS http://www.theguardian.com/sustainable-business/epiphany-transform-corporate-sustainability
WATCH
NHK World Englsh, March 11, 2014
TRADING HAPPINESS FOR WEALTH: MATERIALISM, DEPRESSION AND YOUTH SUICIDE http://www3.nhk.or.jp/nhkworld/newsline/201403111316.html
=======================
THE WISDOM OF ZEN MASTER THICH NHAT HANH
26 August 2010 Guardian - Living Our Values
THICH NHAT HANH:
▶ OUR SEARCH FOR FAME, WEALTH, POWER IS OUR DOWNFALL http://www.guardian.co.uk/sustainable-business/zen-master-thich-nhat-hanh-love-climate-change
26 August 2010 Guardian - Living Our Values
-▶ THICH NHAT HAHN: ZEN AND THE ART OF PROTECTING THE PLANET: In Rare Interview with zen buddhist master Thay warns of the threat to civilisation from climate change and the spiritual revival that is needed to avert catastrophe http://www.theguardian.com/sustainability/environment-zen-buddhism-sustainability
Jan 21, 2013 Guardian Sustainable Business
-▶ THICH NHAT HANH: ONLY LOVE CAN SAVE US FROM CLIMATE CHANGE
Leading spiritual teacher Thay suggests that our search for fame, wealth, power and sexual gratification provides the perfect refuge for people to hide from the truth about the many challenges facing the world. Worse still, our addiction to material goods and a hectic lifestyle provides only a temporary plaster for gaping emotional and spiritual wounds, which only drives greater loneliness and unhappiness..... http://www.guardian.co.uk/sustainable-business/zen-master-thich-nhat-hanh-love-climate-change
February 20, 2013 Guardian Sustainable Business
THICH NHAT HANH:
-▶ BEYOND ENVIRONMENT: FALLING BACK IN LOVE WITH MOTHER EARTH http://www.guardian.co.uk/sustainable-business/zen-thich-naht-hanh-buddhidm-business-values?intcmp=239
The Ecologist, March 22, 2013
THICH NHAT HANH:
-▶ IN 100 YEARS HUMAN LIFE ON PLANET EARTH MAY HAVE ENDED http://www.theecologist.org/News/news_analysis/1291786/thich_nhat_hanh_maybe_in_100_years_there_will_be_no_more_humans_on_the_planet.html
========================
WATCH
"THE STORY OF SOLUTIONS"
Latest from Annie Leonard's "Story of Stuff"
Resolving the "Game of More"
http://www.youtube.com/watch?v=cpkRvc-sOKk
January 17, 2013 YES Magazine
-▶ RELIGION, SCIENCE AND SPIRIT: A SACRED STORY OF OUR TIME. Humanity's current behavior threatens Earth's capacity to support life and relegates more than a billion people to lives of destitution http://sco.lt/8rb8DZ
-▶ GROSS NATIONAL HAPPINESS IN BHUTAN: THE BIG IDEA FROM A TINY STATE THAT COULD CHANGE THE WORLD http://sco.lt/7BBtHV
September 15, 2013 Global Possibilities
-▶ U.N. SAYS DANES ARE THE HAPPIEST PEOPLE ON THE PLANET http://www.globalpossibilities.org/vikings-have-the-most-fun-u-n-says-danes-are-the-happiest-people-on-the-planet/
The Economist, April 6, 2012
-▶ HAPPINESS: NO LONGER THE DISMAL SCIENCE? http://www.economist.com/blogs/feastandfamine/2012/04/happiness
-▶ UNITED NATIONS WORLD HAPPINESS REPORT
The first World Happiness Report. Commissioned for a United Nations Conference on Happiness, under the auspices of the UN General Assembly, bears the imprimatur of Columbia University's Earth Institute and is edited by the institute's director, Jeffrey Sachs, and two happiness experts, Richard Layard of the London School of Economics and John Helliwell of the University of British Columbia. The report unmemorably finds that the world's happiest countries world are in northern Europe (Denmark, Norway, Finland, Netherlands) and the most miserable are in Africa (Togo, Benin, Central African Republic, and Sierra Leone).
http://www.earth.columbia.edu/sitefiles/file/Sachs%20Writing/2012/World%20Happiness%20Report.pdf
-▶ BUSINESS SHOULD CONTRIBUTE TO SOCIAL HEALTH AND WELL BEING OF THEIR LOCAL COMMUNITIES http://sco.lt/8aEijR
-▶ THE EVOLUTION OF BUSINESS: HOW A NEW BUSINESS ERA INSPIRED BY NATURE, NOT GREED, CAN BENEFIT US ALL http://sco.lt/6XU6Kn
-▶ BANKS PUT A PRICE ON EARTH'S LIFE SUPPORT SYSTEMS. OLD ECONOMICS OR SUSTAINING POLICY? http://sco.lt/64wUHx
September 13, 2013 CSRWire Talkback, Francesca Rheannon
-▶ THE TRAGEDY OF THE MARKET, THE PROMISE OF THE COMMONS http://www.csrwire.com/blog/posts/1013-the-tragedy-of-the-market-the-promise-of-the-commons
CSRwire Talkback -
-▶ OUR INVISIBLE ECOLOGICAL COMMONS http://csrwiretalkback.tumblr.com/post/2147520326/our-invisible-ecological-commons
September 14, 2013 Project Syndicate, Tania Singer
-▶ BEYOND HOMO ECONOMICUS http://www.nationofchange.org/beyond-homo-economicus-1379168645
-▶ THE FINALIZATION OF NATURE:
http://www.scoop.it/t/biodiversity-is-life?q=financialization+of+nature
September 14, 2013 Project Syndicate, Barbara Unmuessig
-▶ NATURE, INC? THE FINANCIALIZATION OF NATURE IS NOT THE ANSWER http://www.project-syndicate.org/commentary/the-limits-of-market-based-environmental-protection-by-barbara-unmuessig
November 12, 2008 ETC Group
-▶ WHO OWNS NATURE?
ETC Group released a 48-page report, "Who Owns Nature?" on corporate concentration in commercial food, farming, health and the strategic push to commodify the planet's remaining natural resources http://www.etcgroup.org/content/news-release-who-owns-nature-0
-▶ A CULTURE SEPARATED FROM NATURE CANNOT SURVIVE: BANKRUPTING NATURE http://sco.lt/7HFVYH
-▶ JANINE BENYUS: WE ARE SURROUNDED BY GENIUS - WHOLE SYSTEMS DESIGN BY NATURE http://sco.lt/86AYWv
-▶ THE STATE OF THE WORLD: IS IT TOO LATE FOR SUSTAINABILITY? http://sco.lt/4ueEQz
-▶ OLD ECONOMICS OR SUSTAINING POLICY? FINANCIALIZING NATURE COULD BANKRUPT US ALL http://sco.lt/5d4FEn
Alternet, December 23, 2013
-▶ THE AMAZING WAY NATURE CAN HEAL YOU AND MAKE YOU FEEL AT YOUR BEST http://admin.alternet.org/environment/studies-show-amazing-ways-nature-boon-your-health
-▶ CHANGE IS UPON US AND CHANGE WE MUST http://thenaturaleye.wordpress.com/2012/06/29/change-is-upon-us-and-change-we-must/
WATCH
FILM: ***"HOME"
An Exquisite Dedication To the Stewards of Our Planet
http://thenaturaleye.wordpress.com/2011/03/26/home-an-exquisite-story-of-our-world/
----WATCH ---
-▶ USING ECOCIDE TO CREATE SERVITUDE IN THE PHILLIPINES - FROM THE INDIGENOUS POV http://sco.lt/8J2gRl
Fighting back Against Multi-National Foreign Corporations Collaborating With State Military Forces To Destroy Their Lands, Livelihoods and Forests - A devastating indictment on out of control corporate greed
>> AN URGENT MEMO TO THE WORLD - The Natural Eye Project - http://thenaturaleye.wordpress.com/2012/07/12/an-urgent-memo-to-the-world/
WHY CHOOSING NATURE WILL ONLY ADVANCE HUMAN SOCIETIES http://sco.lt/8BIJP7
September 3, 2013 - Think Progress
"WE HAVE FIVE MINUTES BEFORE MIDNIGHT"
UN CHIEF SCIENTIST URGES ACTION ON CLIMATE CHANGE: .... http://sco.lt/7r58s5
LIVING IN THE ANTHROPOCENE: TOWARDS A NEW GLOBAL ETHOS http://sco.lt/6FzKSX
OUR OCEANS NEED US http://www.scoop.it/t/our-oceans-need-us
Biodiversity IS Life http://www.scoop.it/t/biodiversity-is-life?page=1&cp=49