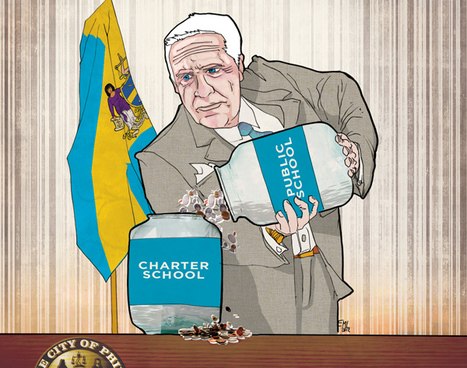 June 6, 2013 Huffington Post Politics - Diann Woodward, President, American Federation of School Administrators
-▶ THE CORPORATE TAKEOVER OF PUBLIC EDUCATION
The likes of Bloomberg, Gates, Amazon, Walmart and Murdoch are taking control of our school curriculums -- worth "worth hundreds of billions of dollars."... The extent to which these groups will go to supplant the public school system is deeply disturbing.... Will they create a world of equal opportunity that is the spirit animating our nation's education professionals? Or will they create a world to their liking in which parents and professional educators will have little or any voice? ...
A recent Washington state ballot initiative expanding publicly (tax payer) subsidized, privately run charter schools was effectively underwritten by Amazon and Microsoft, part of a broader education "reform" push by Microsoft founder Bill Gates' massive foundation.... ... http://www.huffingtonpost.com/diann-woodard/the-corporate-takeover_b_3397091.html
NationofChange, December 1, 2013
-▶ RECLAIMING PUBLIC EDUCATION FROM THE CORPORATIZING OF OUR SCHOOLS http://www.nationofchange.org/day-action-reclaim-public-education-1385917985
Washington Post, July 15, 2013
- ▶ BILL GATES EXPANDS INFLUENCE - AND MONEY- INTO HIGHER EDUCATION http://www.washingtonpost.com/blogs/answer-sheet/wp/2013/07/15/bill-gates-expands-influence-and-money-into-higher-education/
ANIMATED VIDEO
'OUTSOURCING AMERICA EXPOSED'
Across the country, for-profit companies are engaged in a hostile takeover of our schools, roads, prisons, drinking water — even government itself. In this animated video created by Mark Fiore for the Center for Media and Democracy's "Outsourcing America Exposed" project, Outsourcing Eddie shows us the many ways in which America is for sale... http://billmoyers.com/2013/09/30/outsourcing-america-exposed/
THE GENERATION FLUX COLLEGE DEGREE. College is unaffordable, inefficient, and sometimes irrelevant. Here's a guide to navigating the new education paradigm. http://www.fastcompany.com/3015302/fast-companys-guide-to-the-generation-flux-college-degree
August 3, 2013 - Care2
-▶ WHY 'ALEC' FABRICATED PUBLIC SCHOOL FAILURES (AND WHY WE'RE NOT SURPRISED) http://www.care2.com/causes/why-alec-fabricated-public-school-failures-and-why-were-not-surprised.html
July 1, 2012 Daily Kos
-▶ TURNING THE TIDE ON CORPORATE EDUCATION http://www.dailykos.com/story/2012/07/01/1103066/-Turning-the-tide-on-corporate-education#
July 23, 2012 Truth Out
-▶ A VICTORY FOR CORPORATIZED EDUCATION, FEDERAL COURT STRIKES DOWN REGULATION OF PREDATORY FOR-PROFIT COLLEGES http://truth-out.org/news/item/10257-federal-court-strikes-down-the-main-element-in-department-of-education-to-regulation-of-for-profit-predatory-colleges-a-victory-for-corporate-education
-▶ WHY THE UNITED STATES IS DESTROYING ITS EDUCATION SYSTEM http://www.truthdig.com/report/item/why_the_united_states_is_destroying_her_education_system_20110410
------------------------------------------------------
-- SCHOOLS, EDUCATION --
August 17, 2013 Truthout
-▶ WHEN SCHOOLS BECOME DEAD ZONES OF THE IMAGINATION: A CRITICAL PEDAGOGY MANIFESTO http://www.truth-out.org/opinion/item/18133-when-schools-become-dead-zones-of-the-imagination-a-critical-pedagogy-manifesto
August 6, 2013 Truthout
-▶ THE CORPORATE HIJACKING OF PUBLIC EDUCATION: IS THAT WHAT EDUCATING CHILDREN HAS BOILED DOWN TO -- A RETURN ON INVESTMENT? http://www.truth-out.org/article/item/520:the-corporate-hijacking-of-public-education
Spring 2012 - Rethinking Schools
-▶ CHALLENGING CORPORATE EDUCATION REFORM: Examining closely what the corporate education reform movement proposes http://www.rethinkingschools.org/archive/26_03/26_03_karp.shtml
May 8, 2013 Alternet
-▶ WHO IS PROFITING FROM CHARTERS? THE BIG BUCKS BEHIND CHARTER SCHOOL SECRECY, FINANCIAL SCANDAL AND CORRUPTION http://www.alternet.org/education/who-profiting-charters-big-bucks-behind-charter-school-secrecy-financial-scandal-and
June 26, 2013 - Truthout
-▶ THE PERILS OF ZOMBIE EDUCATION - When education becomes a commodity and students become consumers, the result is zombie education
http://truth-out.org/opinion/item/17103-the-perils-of-zombie-education
September 12, 2011 Salon
-▶ THE BAIT AND SWITCH OF SCHOOL 'REFORM' - Behind the new corporate agenda for education lurks the old politics of profit and self interest. http://www.salon.com/2011/09/12/reformmoney/
December 12, 2011 Frontline PBS
-▶ HOW THE FOR-PROFIT COLLEGE INDUSTRY TOOK ON THE OBAMA ADMINISTRATION (AND WON) http://www.pbs.org/wgbh/pages/frontline/education/college-inc/how-the-for-profit-college-industry-took-on-the-obama-administration-and-won/
July 22, 2013 Common Dreams
-▶ POLL: AMERICAN PARENTS WANT PUBLIC SCHOOLS, NOT CHARTER SCHOOLS http://www.commondreams.org/headline/2013/07/22-4
Washington Post
-▶ E-MAILS LINK BUSH FOUNDATION, CORPORATIONS AND EDUCATION OFFICIALS TO WRITE EDUCATION LAWS BENEFITING CORPORATE FUNDERS http://www.washingtonpost.com/blogs/answer-sheet/wp/2013/01/30/e-mails-link-bush-foundation-corporations-and-education-officials/
August 3, 2013 Common Dreams
-▶ AS WALMART WRITES CHECKS, CRITICS BLAST 'TEACH FOR AMERICA'
Critics blast non-profits, corporate foundations as 'pipeline' for pro-corporate policies like charter schools and privatization.
"While TFA uses the rhetoric of justice and equity, these reforms in fact stifle democratic processes and are used to justify budget cuts and the takeover of public institutions by privately funded and privately run companies." -Valerie Strauss http://www.commondreams.org/headline/2013/08/05-6
--- WATCH --

VIDEO: QUEST TV
-▶ CHARTER SCHOOL STUDENTS TAKE ACTION TO RESTORE BIODIVERSITY AND REVITALIZE A COMMUNITY http://science.kqed.org/quest/2013/07/25/students-take-action-to-restore-biodiversity-and-revitalize-a-community/
August 29, 2013 Modern Farmer
-▶ TURNING SCHOOL GARDENS INTO OUTDOOR CLASSROOMS http://modernfarmer.com/2013/08/using-school-gardens-classrooms/
-------------------------------------------------------------
-- STUDENT LOANS - PART OF THE CORPORATE PACKAGE -
August 6, 2012 Jim Hightower: Truthout
-▶ TURNING COLLEGE STUDENTS INTO COMMODITIES http://truth-out.org/opinion/item/10715-turning-college-students-into-commodities
August 21, 2013 Rolling Stone, Matt Taibbi:
-▶ NO BANKRUPTCY FOR STUDENT LOANS -- WE'RE SADDLING COLLEGE STUDENTS WITH CRUSHING DEBT ... AND GOVERNMENT IS ACTING LIKE GREEDY PROFITEERS http://www.globalpossibilities.org/matt-taibbi-were-saddling-college-students-with-crushing-debt-and-the-govt-is-acting-like-a-greedy-profiteer/
July 20, 2012 Common Dreams
-▶ PRIVATE STUDENT LOAN LENDING PARALLELS SUB-PRIME LENDING SCANDAL http://www.commondreams.org/headline/2012/07/20-0
July 2, 2012 ProPublica
-▶ BANKS' LENDING FRENZY LEFT BORROWERS BURIED IN STUDENT DEBT, REPORT DETAILS http://www.propublica.org/article/banks-lending-frenzy-left-borrowers-buried-in-student-debt-report-details
August 15, 2013 Rolling Stone, Matt Taibbi
-▶ THE COLLEGE-LOAN SCANDAL: THE RIPPING OFF OF YOUNG AMERICA http://www.rollingstone.com/politics/news/ripping-off-young-america-the-college-loan-scandal-20130815
--- WATCH ---
August 20, 2013 Democracy Now
VIDEO REPORT
-▶ MATT TAIBBI: U.S. STUDENT LOAN BUBBLE SADDLES A GENERATION WITH DEBT AND THREATENS THE ECONOMY http://www.democracynow.org/2013/8/20/matt_taibbi_us_student_loan_bubble
April 26, 2012 The Atlanta Journal-Constitution - Jay Bookman
-▶ THE REAL STUDENT-LOAN SCANDAL:
College graduates with large debt aren't really the problem. The larger problem is the predatory for-profit schools that have popped up around the country to try to separate students from their college-loan money and in the process deliver little in the way of useful education.
The industry is large and growing rapidly. During the 2008-2009 academic year, those schools collected $4.3 billion in Pell grants and $20 billion in federal loans. That's more than double the amount that they received as recently as 2005. The real student-loan scandal http://blogs.ajc.com/jay-bookman-blog/2012/04/26/the-real-student-loan-scandal/
ProPublica Reports
-▶ COLLEGE DEBT - A TRILLION DOLLAR BUSINESS - Saddling Them http://www.propublica.org/series/college-debt
-- WATCH --
Moyers Moment (2012):
-▶ HEATHER McGHEE ON STUDENT DEBT:
In this 2012 Moyers Moment from Moyers & Company, Heather McGhee, director of the Washington office of the research and advocacy organization Demos, talks about the crushing burden of student debt. She points out that while young people are paying as much as 18 percent interest on private student loans, "the banks they're paying that interest to are getting, basically, a zero-interest loan from the government every day." http://billmoyers.com/2012/04/25/moyers-moment-2012-heather-mcghee-on-student-debt
-▶ AND MORE ON STUDENT LOANS FROM BILL MOYERS AND COMPANY
http://billmoyers.com/search-results/?q=student+loans#gsc.tab=0&gsc.q=student%20loans&gsc.page=1
------------------------------------------------------------
BusinessWeek, July 15, 2010
- ▶ BILL GATES SCHOOL CRUSADE http://www.businessweek.com/magazine/content/10_30/b4188058281758.htm
C&L, December 04, 2011
-▶ GATES FOUNDATION HIDES BEHIND 'ALEC" TO PRIVATIZE EDUCATION: GRANTS ALEC A HEFTY SUM FOR 'EDUCATION REFORM' http://crooksandliars.com/karoli/gates-foundation-grants-alec-hefty-sum-educ
ALECExposed
-▶ PRIVATIZING PUBLIC EDUCATION, HIGHER ED POLICY AND TEACHERS http://www.alecexposed.org/wiki/Privatizing_Public_Education,_Higher_Ed_Policy,_and_Teachers
JAILING AMERICANS FOR PROFIT
-▶ THE RISE OF THE BILLION DOLLAR PUBLICLY-FUNDED PRIVATE PRISON INDUSTRIAL COMPLEX http://sco.lt/6bHg3N
-▶ WILL AMERICANS ALLOW THEIR PUBLIC SERVICES TO BECOME PRIVATIZED? http://sco.lt/8KkknR