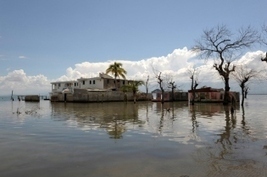 Nairobi, 21 June 2013 - UN Report UNEP
The future of the private sector will increasingly hinge on the ability of businesses to adapt to the world's rapidly changing environment and to develop goods and services that can reduce the impacts of climate change, water scarcity, emissions of harmful chemicals, and other environmental concerns. -
See more at: http://unep.org/newscentre/Default.aspx?DocumentID=2718&ArticleID=9552&l=en#sthash.OgqLDMrH.d
THIS FAITH IN THE MARKETS IS MISPLACED: WILL BIG BUSINESS SAVE OR DESTROY OUR PLANET? http://sco.lt/8Yxtgn
allAfrica, January 07, 2014
▶ AFRICA: OUR MODERN, WESTERN AGRICULTURAL SYSTEM IS DESTROYING THE EARTH AND OUR HEALTH.
Today our food comes from across the world. More importantly, it is often produced in highly destructive ways, at the lowest possible cost.
Consequently our food production system is responsible for accelerating the rate of destruction of the very ecosystems we are reliant upon in order to maintain our delicate global environmental equilibrium.
We cut and clear the lungs of the world, our tropical rainforests, to feed livestock or grow dishonestly named "biofuels". We bulldoze natural filtration systems and the nurseries for life like wetlands and mangrove swamps to produce luxury foods for obese populations. http://allafrica.com/stories/201401071158.html?viewall=1
STATE OF THE WORLD'S BIRDS REPORT INDICATES A PLANET IN PERIL http://sco.lt/4yq6z3
MORE ON CLIMATE CHANGE http://www.scoop.it/t/changingplanet
MORE ON BIODIVERSITY http://www.scoop.it/t/biodiversity-is-life?page=1