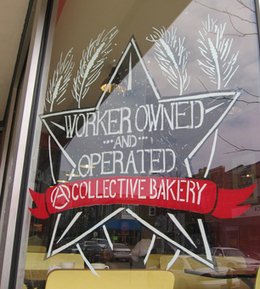 Feb 19, 2013 YES Magazine
THE COOPERATIVE WAY TO A STRONGER ECONOMY
Co-ops—just like people—can get more done together than anyone can do alone. They come in many forms, and are more common than you might imagine... http://www.yesmagazine.org/issues/how-cooperatives-are-driving-the-new-economy/the-cooperative-way
WELCOME TO COMMONOMICS — YES! Magazine http://www.yesmagazine.org/commonomics/commonomics-landing-page
The Guardian - Social Impact Hub - September 24, 2013
BUSINESSES CANNOT AVOID INVOLVEMENT IN CULTURAL, SOCIAL AND MORAL ISSUES http://www.theguardian.com/sustainable-business/business-confront-cultural-social-moral-issues
AlterNet, October 13, 2013
THINK A NEW ECONOMY IS POSSIBLE? MEET THE MAN ALREADY MAKING IT HAPPEN http://www.alternet.org/environment/think-new-economy-possible-meet-man-already-making-it-happen?akid=11040.237541.QkJlfA&rd=1&src=newsletter909943&t=5
Atlantic Cities, October 31, 2013
THE SHARING ECONOMY: THE RISE OF INVISIBLE WORK http://www.theatlanticcities.com/jobs-and-economy/2013/10/rise-invisible-work/7412/
August 22, 2013 Triple Pundit
DOES THE SHARING ECONOMY REALLY HAVE CATASTROPHIC IMPACTS? WALL STREET IS FREAKING OUT http://www.triplepundit.com/2013/08/sharing-economy-really-catastrophic-impacts/
June 19, 2013 Resilience Magazine
THE EMERGING "SHARING" ECONOMY http://www.resilience.org/stories/2013-06-19/the-next-new-economy
Wallet Pop
IN CARACUS, VENZUELA SQUATTERS ORGANIZE CO-OP IN THE WORLD'S TALLEST SLUM http://www.walletpop.ca/2013/08/20/squatters-organize-co-op-in-the-worlds-tallest-slum/?ncid=edlinkusaolp00000008
August 26, 2013 Guardian Professionals: Farming and Food Security Hub
NEW IDEAS PUT AGRICULTURE CO-OPERATIVES AT THE HEART OF RURAL DEVELOPMENT http://www.theguardian.com/global-development-professionals-network/2013/aug/26/agriculture-co-operatives-markets-credit
A SHIFT FOR THE 21st CENTURY: FIRST FEMALE CHAIR OF CO-OPERATIVES IN UK IN 143 YEARS http://www.theguardian.com/social-enterprise-network/2013/aug/27/co-ops-and-gender
--- AN ANSWER TO REVITALIZING COMMUNITIES --
MONDRAGON
SPAIN'S GIANT CO-OPERATIVE: A GROWING ALTERNATIVE MODEL TO CAPITALISM http://sco.lt/79nTrF
*** WATCH***
MONDRAGON:
THE LOVING SOCIETY THAT IS OUR INEVITABLE FUTURE http://www.filmsforaction.org/news/mondragon_the_loving_society_that_is_our_inevitable_future/
THE MOUSE THAT ROARED: TINY CALIFORNIA COMMUNITY'S SELF SUSTAINING COMMUNITY AS IT TAKES ON WALL STREET http://sco.lt/8EKJCD

April 20, 2013 Truth Out
WORKER-OWNED COOPERATIVES - DIRECT DEMOCRACY IN ACTION http://truth-out.org/news/item/15850-worker-owned-cooperatives-direct-democracy-in-action
September 28, 2012 Share The World's Reources
IF CORPORATIONS CREATE THE PROBLEM, CAN CO-OPS OFFER THE SOLUTION http://www.stwr.org/economic-sharing-alternatives/corporations-create-the-problem-co-ops-offer-the-solution.html
March 22, 2013 - Bill Moyers
HOW WORKER-OWNED COMPANIES WORK http://billmoyers.com/2013/03/22/how-worker-owned-companies-work/
-- WATCH --
VIDEO (SHORT) "THE IOU PROJECT" - Introduction - YouTube
The Weaver vs The Machine
http://www.youtube.com/watch?v=Yybe3hB3Ix4&feature=youtu.be
ECONOMIC SUCCESS ALONE IS NOT ENOUGH TO IMPROVE OUR WELL BEING http://sco.lt/7J7VnF
July 10, 2013 Let's Try Democracy
LISTEN
****WORKER OWNERSHIP AS A FIX FOR BROKEN DEMOCRACY http://davidswanson.org/node/4090
Corp2020: Pavan Sukhdev Kevin Kromash, May 2013
TRANSFORMING BUSINESS FOR TOMORROW'S WORLD http://thesolutionsjournal.com/node/22221
June 2, 2013 Nation Of Change
COOPERATIVE ECONOMICS: REPLACING A COLLAPSE IN CAPITALISM http://www.nationofchange.org/cooperative-economics-replacing-collapse-capitalism-1370179151
VIDEO REPORT
Bill Moyers & Company
*** TAMING CAPITALISM RUN WILD: Economist Richard Wolff talks about battling rampant capitalism and fighting for economic justice http://billmoyers.com/episode/encore-taming-capitalism-run-wild-2/
JUST THE FACTS: WHAT'S SO GOOD ABOUT CO-OPS? — YES! Magazine http://www.yesmagazine.org/issues/how-cooperatives-are-driving-the-new-economy/just-the-facts-what-s-so-good-about-co-ops
Feb 19, 2013 - Yes Magazine
HOW COOPERATIVES ARE DRIVING THE NEW ECONOMY
Co-ops—just like people—can get more done together than anyone can do alone. They come in many forms, and are more common than you might imagine... http://www.yesmagazine.org/issues/how-cooperatives-are-driving-the-new-economy/the-cooperative-way
March 19, 2013 Sustainable Brands
"THE INTERESTS OF THE COMMONS" Eric Lowitt on THE COLLABORATION ECONOMY http://www.sustainablebrands.com/news_and_views/social_enterprise/interests-commons-eric-lowitt-collaboration-economy
September 13, 2013 CSRWire Talkback, Francesca Rheannon
THE TRAGEDY OF THE MARKET, THE PROMISE OF THE COMMONS http://www.csrwire.com/blog/posts/1013-the-tragedy-of-the-market-the-promise-of-the-commons
CSRwire Talkback -
OUR INVISIBLE ECOLOGICAL COMMONS http://csrwiretalkback.tumblr.com/post/2147520326/our-invisible-ecological-commons
September 14, 2013 Project Syndicate, Tania Singer
BEYOND HOMO ECONOMICUS http://www.nationofchange.org/beyond-homo-economicus-1379168645
April 23, 2013 Yes Magazine
7 CO-OPS THAT ARE CHANGING OUR ECONOMY - HOW HOUSING TO HEALTH CARE http://www.yesmagazine.org/issues/how-cooperatives-are-driving-the-new-economy/7-ways-to-own-the-new-economy2014together
August 21, 2013 Guardian Sustainable Business
CO-OPS: SUSTAINABLE SUCCESS AND BUSINESS BREAKDOWN http://www.theguardian.com/social-enterprise-network/2013/aug/21/co-operatives-success-and-breakdown
June 14, 2013 Guardian Environment
LOCAL, SELF-SUFFICIENT, OPTIMISTIC; ARE TRANSITION TOWNS THE WAY FORWARD http://www.theguardian.com/environment/2013/jun/15/transition-towns-way-forward
August 28, 2013 The Guardian UK
BERLINERS' CO-OP AIMS TO EXPEDITE RENEWABLES BY TAKING ELECTRICITY GRID OF CITY http://www.theguardian.com/world/2013/aug/28/berliners-co-op-aims-run-electricity
--- WATCH ---
Films In Action:
*** WHY HEIRACHY CREATES A DESTRUCTIVE FORCE WITHIN THE HUMAN PSYCHE http://www.filmsforaction.org/watch/why_hierarchy_creates_a_destructive_force_within_the_human_psyche/
July 26, 2013 Yes Magazine
HOW TO DESIGN OUR NEIGHBORHOODS FOR HAPPINESS.
When we share our yards, sidewalks, and other common spaces, we find a greater sense of belonging and connection to those around us
http://www.yesmagazine.org/happiness/how-to-design-our-neighborhoods-for-happiness
August 28, 2013 Climate Progress
'SOLAR COMMUNITY GARDENS' PUT CLEAN ENERGY WITHIN REACH OF LOW-INCOME FAMILIES http://thinkprogress.org/climate/2013/08/28/2546291/community-solar-income/
Articles from YES Magazine
COOPERATIVES - WHEN WORKERS ARE THE OWNERS http://www.yesmagazine.org/new-economy/cooperatives
QUEST TV
VIDEO:
*** STUDENTS TAKE ACTION TO RESTORE BIODIVERSITY AND REVITALIZE A COMMUNITY http://science.kqed.org/quest/2013/07/25/students-take-action-to-restore-biodiversity-and-revitalize-a-community/
ECONOMIC SUCCESS ALONE IS NOT ENOUGH TO IMPROVE OUR WELL BEING http://sco.lt/7J7VnF
THE EVOLUTION OF BUSINESS: HOW A NEW BUSINESS ERA INSPIRED BY NATURE, NOT GREED, CAN BENEFIT US ALL http://sco.lt/6XU6Kn
August 7, 2013 The Permaculture Research Institute
URBAN PERMACULTURE: SHOWCASING CURRENT INITIATIVES IN THE CITY AND SUBURBS http://permaculturenews.org/2013/08/07/urban-permaculture-homestead-watch-showcasing-current-initiatives-in-the-city-and-suburbs/
Resilience
ENOUGH TO GO AROUND: THE CASE FOR COMMUNITY CURRENCY http://www.resilience.org/stories/2013-08-09/enough-to-go-around-the-case-for-community-currency
August 28, 2013 BBC News Business
THE U.S. PROFESSIONALS QUITTING THE RATE RACE TO BECOME FARMERS http://www.bbc.co.uk/news/business-23849569
-- WATCH --
August 9, 2013 PBS Newshour
VIDEO REPORT:
**** DETROIT: FACING BANKRUPTCY, DETROITERS TAKE REVITALIZATION INTO THEIR OWN HANDS http://www.pbs.org/newshour/bb/nation/july-dec13/detroit_08-09.html
A DREAM FORECLOSED: AS OBAMA TOUTS 'RECOVERY', RACIST ROOTS OF HOUSING CRISIS AND WALL STREET BUYBACKS AT FIRESALE PRICES REVEALED http://sco.lt/8gXZYX
August 24, 2013 Truthout
THINGS TO KNOW AS COLLAPSE BECOMES HIP http://truth-out.org/opinion/item/18217-things-to-know-as-collapse-becomes-hip
INSTEAD OF TRYING TO FEED THE WORLD, LET'S HELP IT FEED ITSELF A Woman's POV http://sco.lt/5Oc5Jp
July 3, 2014 Huffington Post Green, Carl Gibson:
CRANE AND CLIMATE CHANGE: WHY OUR SURVIVAL DEPENDS ON LOCAL SOLUTIONS http://www.huffingtonpost.com/carl-gibson/cranes-and-climate-change_b_3537639.html
Stanford Social Innovation Review
INNOVATION FOR A COMPLEX WORLD - PROMOTING THE WELL-BEING OF HUMANITY http://sco.lt/5Z51bV
ECO-SPIRITUALITY: TOWARDS A VALUES-BASED ECONOMIC STRUCTURE http://sco.lt/7tcgQj
March 15, 2013 - Alternet via YES Magazine
WHY UNIONS ARE GOING INTO THE CO-OP BUSINESS http://www.alternet.org/food/why-unions-are-going-co-op-business?akid=10193.237541.ORdrD5&rd=1&src=newsletter810408&t=19
16 March 2013 - TruthOut
MAKING A NEW ECONOMY: GETTING COOPERATIVE http://www.truth-out.org/opinion/item/15001-making-a-new-economy-getting-cooperative
WHAT OBAMA FORGOT TO MENTION : THE INSPIRATION OF OHIO'S WORKER-OWNED BUSINESS REVOLUTION http://www.scoop.it/t/environmental-and-human-health/p/3997176765/what-obama-forgot-to-mention-the-inspiration-of-ohio-s-worker-owned-business-revolution
22 May 2012 - Common Dreams
THE RISE OF THE NEW ECONOMY MOVEMENT
From cooperatives, to employee owned businesses to social responsible companies to complementary currencies... we are birthing!
http://www.commondreams.org/view/2012/05/22-2
February 01, 2012 YES Magazine
THE YEAR OF THE COOPERATIVE http://www.yesmagazine.org/new-economy/2012-the-year-of-the-cooperative
June 4, 2013 EurActive
ILO WARNS EUROPE ON GROWING RISK OF SOCIAL UNREST DUE TO YAWNING GAPS BETWEEN RICH AND POOR http://www.euractiv.com/socialeurope/ilo-warns-europe-growing-risk-so-news-528277
July 16, 2013 Nation of Change
ACHIEVING THE GREEN ECONOMY - CAPITAL HOMESTEADING
Capital Homesteading, which is based on binary economics, offers a way out of the quandary, which pits concern for the environment against immediate needs, desires, convenience, and the profit interests of powerful corporations.
As Capital Homesteading takes hold, Americans would not only become stronger consumers and "customers with money" but also gain stronger property interests in the environment and be better able to afford the greener choice.... http://www.nationofchange.org/achieving-green-economy-1373980790
TRANSFORMING BUSINESS FOR TOMORROW'S WORLD - THE END OF GDP GROWTH http://sco.lt/96N2C9
June 3, 2013 Forest News
Q&A: WHO OWNS THE RIGHTS TO THE WORLD/S COMMON RESOURCES? http://blog.cifor.org/16672/qa-who-owns-the-rights-to-the-worlds-common-resources/#.Ub6-u-swOic
LIVING IN THE ANTHROPOCENE: TOWARD A NEW GLOBAL ETHOS http://sco.lt/6FzKSX
FOOD FORESTS CAN MITIGATE RISKS OF "FEAST OR FAMINE" - BIG CORPORATE AG IS NOT THE ANSWER http://sco.lt/8q2M41
MONEY REALLY DOES GROW ON TREES http://sco.lt/6DwXNh
THE FINALIZATION OF NATURE:
http://www.scoop.it/t/biodiversity-is-life?q=financialization+of+nature
ENOUGHNESS: WESTERN THOUGHT vs INDIGENOUS PHILOSOPHY http://sco.lt/6EFbPt
June 17, 2013 Guardian Global Development - John Vidal
A VOICE FOR THE POOR: LA VIA CAMPESINA, WORLD'S LARGEST POLITICAL MOVEMENT, TO CHALLENGE MULTI-NATIONALS ON POVERTY AND INEQUALITY
'"We have no choice but to change the system"
http://www.guardian.co.uk/global-development/2013/jun/17/la-via-campesina-henry-saragih?CMP=EMCGBLEML1625