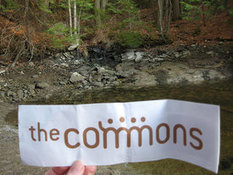 April 3, 2013 Common Dream...
- Andrea Germanos, staff writer
As the effects of climate change continue to ripple throughout the planet, some groups are acknowledging that the warming planet means big money is to be made on a resource more precious than oil — water.
In an article titled "Investors Seek Ways to Profit From Global Warming," Bloomberg Businessweek provides a revealing quote from the corporation Water Asset Management, for whom "drought is helping spur business," and for whom climate change will help them profit from water as a commodity...
Maude Barlow, National Chairperson of the Council of Canadians and founder of the Blue Planet Project, has described the kind of water rights buy-ups Water Asset Management capitalizes on as "creating a new wave of invasive colonialism," saying: "Knowing there will not be enough food and water for all in the near future, wealthy countries and global investment, pension and hedge funds are buying up land and water, fields and forests in the global South, creating a new wave of invasive colonialism that will have huge geo-political ramifications. In Africa alone, rich investors have already bought up an amount of land double the size of the United Kingdom.
And as the non-profit organization GRAIN has documented, behind every land grab is a water grab.... http://www.commondreams.org/headline/2013/04/03-6
March 7, 2013 Bloomberg Business Week
INVESTORS SEEK WAYS TO PROFIT FROM GLOBAL WARMING http://www.businessweek.com/articles/2013-03-07/investors-seek-ways-to-profit-from-global-warming
THE BLUE PLANET PROJECT http://www.blueplanetproject.net/
WATCH:
THE CORPORATE WATER RIGHTS ISSUE: "BLUE GOLD: WORLD WATER WARS (FILM 1:29:420) http://sco.lt/9420tl
CAN WATER BE SUSTAINABLE? SOLUTIONS TO THE WORLD WATER CRISIS REQUIRES INTERNATIONAL COOPERATION http://sco.lt/6QWC6D
WHO OWNS AND SHOULD CONTROL THE WORLD'S WATER? - THE CORPORATE WATER RIGHTS ISSUE http://sco.lt/5N9uPR
GLOBAL WATER CRISIS: UN's WATER AGENDA AT RISK OF BEING HIJACKED BY BIG BUSINESS http://sco.lt/8zd5n7
GLOBAL WATER GRABBING OCCURING AT 'ALARMING RATES' http://sco.lt/8WuAwT
WHY POVERTY? BECAUSE WE DO NOT SHARE RESOURCES http://sco.lt/5DJ0vh