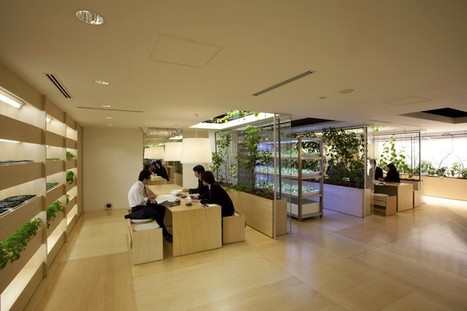 Images of Building-Integrated Agriculture in Japan: Beautiful! " Urban Farm at Pasona Tokyo Headquarters is a nine story high, 215,000 square foot corporate office building for a Japanese recruitment located in downtown Tokyo...
It's a major renovation project consisting of a double skinned green facade, offices, an auditorium, cafeterias, a rooftop garden and most notably, urban farming facilities integrated within the building. The green space totals over 43,000 square feet with 200 species including fruits, vegetables and rice that are harvested, prepared and served at the cafeterias within the building. It is the largest and most direct farm-to-table of its kind ever realized inside an office building in Japan.
http://www.agri-tecture.com/post/46303174197/images-of-building-integrated-agriculture-in#at_pco=cfd-1.0
BRINGING NATURE INTO THE WORK PLACE AND BACK INTO YOUR LIFE http://sco.lt/6o6Bo9
23 March, 2013 - Huffington Post
FARMING IN THE CITY: INDOOR VERTICAL FARMS
Occupying 90,000 square feet of a formerly abandoned suburban Chicago warehouse, FarmedHere is not only the first indoor vertical farm of its kind in the nation -- it's also the largest.... http://www.huffingtonpost.com/2013/03/22/farmedhere-nations-largest-vertical-farm_n_2933739.html?
29 March, 2013 - Natural News
INDOOR URBAN VERTICAL FARMING: THE NEW AGRICULTURE http://www.naturalnews.com/039692_urban_gardening_vertical_farming_aquaponics.html
March 29, 2013 - Business Insider
INFOGRAPHIC: PORTLAND AS GREENEST CITY IN USA http://www.businessinsider.com/portland-green-city-infographic-2013-3