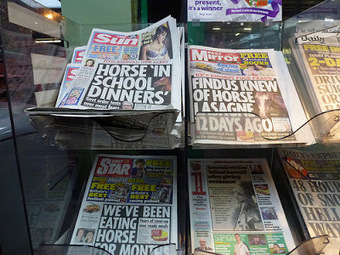 "The 10 largest companies now control more than 15 per cent of all food sales – three quarters of which are made up of highly processed foods such as frozen pizza, burgers, biscuits and fizzy drinks." - The Independent
Feb 24, 2013 - Sustainable Business Forum
It is the breach of trust that upsets people. And it unveils another, much larger issue. The way we eat has been silently, but irreversibly, taken out of our control. Europe is hit with this scandal just in the midst of wider problems. The Euro crisis, and the fiscal problems of many European countries have created a scenario where people suddenly feel their lives are exposed to forces which are beyond their control. The horse meat scandal just adds to that fear, and it also points to one pivotal actor, namely the multinational food company that controls the supply of food.... http://sustainablebusinessforum.com/craneandmatten/82331/horsing-around-our-food
OXFAM: WORLD'S LARGEST FOOD COMPANIES CREATING LEGACY OF DESTRUCTION http://sco.lt/6sSzK5
SEE:
TOO MUCH POWER IN TOO FEW HANDS: FOOD GIANTS TAKE OVER THE INDUSTRY http://sco.lt/7d5xkP
HOW THE FOOD GIANTS HOOKED US http://sco.lt/4m8ptp
BEHIND THE REPORT " BEHIND THE BRANDS" - A SUSTAINABLE BUSINESS HORROR STORY? http://sco.lt/594zeT
HOW THE JUNK FOOD INDUSTRY HAS ENCOURAGED US TO EAT OURSELVES TO DEATH http://sco.lt/6xAPtx
>> WHY IS OUR FOOD BEING MADE AND MODIFIED BY THE WORLD'S LARGEST PESTICIDE MANUFACTURERS? http://gmo-awareness.com/all-about-gmos/gmo-defined/
ENDROCINE AG CHEMICAL DISRUPTERS A GLOBAL EMERGENCY : NEW UN STUDY REVEALS OUR CHEMICAL FOLLY http://sco.lt/6KqMcb
IS FAST FOOD WITH INTEGRITY POSSIBLE?
March 1, 2013 - Guardian Sustainable Business - Supply Chain Hubhttp://www.guardian.co.uk/sustainable-business/chipotle-fast-food-integrity
WAKE UP AND SMELL THE GMOs - A MOTHER'S VOICE SPEAKS OUT ON CORPORATE BETRAYAL OF TRUST - Tracy Madlener http://sco.lt/9Dv6VF
March 7, 2013 - Grist
INDUSTRIAL FOOD FIGHTS BACK: PINK-SLIME MAKER'S LAWSUIT AGAINST ABC-TV GROWS SLIMIER http://ow.ly/iwtqv #hamburger #pinkslime #BigFood
WATCH:
-------------------A VERY IMPORTANT DOCUMENTARY (1 hr) -----------
"CONSUMING KIDS: THE COMMERCIALIZATION OF CHILDHOOD - FROM CRADLE TO GRAVE" http://sco.lt/6Qs0p7
Via
Flora Moon
,
Marc Gobé