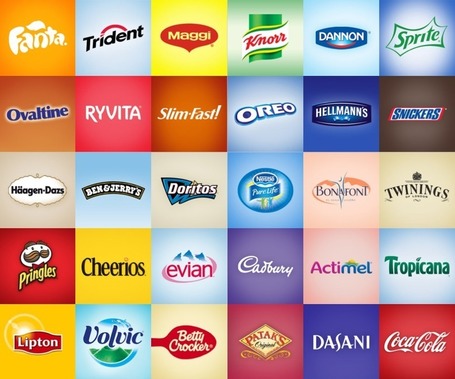 Feb 26, 2013 - Common Dreams
Corporations relying on cheap land and labor are ruining human lives and the natural world, says campaign
The world's largest food and beverage companies may be profitable, but according to Oxfam International their practices are helping to destroy not only the natural resources that support a global food system but the lives of the people they depend on most: their employees and their customers....
In a new effort called Behind the Brand, part of their ongoing GROW campaign to fix the broken food system, Oxfam has singled out the ten largest food processing companies—Associated British Foods (ABF), Coca Cola, Danone, General Mills, Kellogg's, Mars, Mondelez, Nestlé, Pepsico and Unilever—to make a singular statement about the failure of these behemoths to fulfill their social and environmental responsibilities.
According to Oxfam, these "Big 10"—that together generate $1 billion-a-day in profit—are failing millions of people in developing countries who supply land, labor, water and commodities needed to make their products.
http://www.commondreams.org/headline/2013/02/26
FOOD AND DRINK COMPANIES UNDERMINING PUBLIC HEALTH POLICY, SAY SCIENTISTS - Feb 12, 2013 - The Guardian http://www.guardian.co.uk/society/2013/feb/12/food-drink-alcohol-health-regulation
HOW THE FOOD GIANTS HOOKED US http://sco.lt/4m8ptp
TOO MUCH POWER IN TOO FEW HANDS : FOOD GIANTS TAKE OVER THE INDUSTRY http://sco.lt/7d5xkP
BEHIND THE REPORT "BEHIND THE BRANDS" - A SUSTAINABLE BUSINESS HORROR STORY http://sco.lt/594zeT
>> WHY IS OUR FOOD BEING MADE AND MODIFIED BY THE WORLD'S LARGEST PESTICIDE MANUFACTURERS? http://gmo-awareness.com/all-about-gmos/gmo-defined/
WARNING BELLS FROM NATURE - THE FOOD CHAIN AND AG KILLING CHEMICALS/PESTICIDES http://sco.lt/5popNp
IS FAST FOOD WITH INTEGRITY POSSIBLE? March 1, 2013 - Guardian Sustainable Business - Supply Chain Hub http://www.guardian.co.uk/sustainable-business/chipotle-fast-food-integrity
WHY WE POISON OUR FOOD AND DR. SEUSS http://sco.lt/5NKmq9
CHEMICALS IN OUR FOOD - BLOG http://manasorganicfood.com/main_blogs.aspx?blogid=23
HOW THE JUNK FOOD INDUSTRY HAS ENCOURAGED US TO EAT OURSELVES TO DEATH http://sco.lt/6xAPtx
HOW GMO FOODS AFFECT HEALTH - GENE ALTERED FOODS NOW LARGE PART OF AMERICAN DIET http://dailyhealthpost.com/how-gmo-foods-affect-health/#axzz2NCebcdtc
WAKE UP AND SMELL THE GMOs - A MOTHER'S VOICE SPEAKS OUT ON CORPORATE BETRAYAL OF TRUST - Tracy Madlener http://sco.lt/9Dv6VF
UNLEASHING GENETICALLY SALMON ONTO YOUR DINNER PLATE = NO REGULATIONS, NO OVERSIGHT - "FATALLY FLAWED" FDA ASSESSMENT http://sco.lt/8ZDraz
PATENT FOR A PIG: SCIENTISTS "IMPROVE" TRANSGENIC GMO "ENVIROPIGS" http://sco.lt/7hrnF3
THE GLOBAL CHEMICAL BIOTECH CARTEL - AN UNPRECEDENTED POWER OVER WORLD FOOD SUPPLY http://www.scoop.it/t/agriculture-gmos-pesticides/p/1716244040/the-global-chemical-biotech-cartel-an-unprecedented-power-over-world-agriculture-and-human-health
A PERFECT EXAMPLE OF HOW WE DESTROY OUR ENVIRONMENT FOR CONSUMERISM AND PALM OIL ECOCIDE -
http://www.scoop.it/t/biodiversity-is-life?q=PALM+OIL+ECOCIDE
WATCH:
-------------------A VERY IMPORTANT DOCUMENTARY (1 hr) -----------
"CONSUMING KIDS: THE COMMERCIALIZATION OF CHILDHOOD - FROM CRADLE TO GRAVE" http://sco.lt/6Qs0p7
+++WATCH +++
IN EL SALVADOR, AMERICAN JUNK FOOD CREATING CHAOS WITH HEALTH, CHILDREN AND CULTURAL NORMS - VIDEO REPORT http://sco.lt/5qSxOL