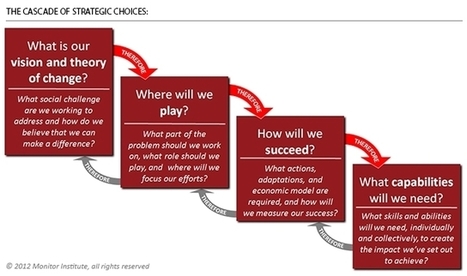 Jan 24, 2013 - Stanford Social Innovation Review
In today's fast-changing world, why freeze your strategic thinking in a five-year plan?
It is important to remember that strategy's roots are military. Military strategy focuses on setting objectives, collecting intelligence, and then using that intelligence to make informed decisions about how to achieve your objectives—take that hill, cut this supply line.
We think that what is necessary today is a strategy that breaks free of static plans to be adaptive and directive, that emphasizes learning and control, and that reclaims the value of strategic thinking for the world that now surrounds us. Martin acknowledged this point at the Skoll World Forum in 2010 when he said: "Every model is wrong and every strategy is wrong. Strategy in a way helps you learn what is 'righter'. People think you can prove a strategy in advance. You can't."... http://www.ssireview.org/blog/entry/the_strategic_plan_is_dead._long_live_strategy
Jan 25, 2013 Davos, World Economic Forum
WHEN COMMON SENSE BECOMES A "BUSINESS STRATEGY" -- INVESTING IN WOMEN - The Daily Beast http://www.thedailybeast.com/articles/2013/01/25/at-davos-investing-in-women-emerges-as-a-business-strategy.html