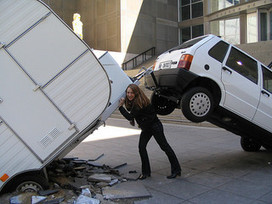 Jan 17, 2013 TRIPLE PUNDIT
There are many female CSR leaders who earn their salt every day. Here are 35 of them.
Men still dominate CSR, at least at the higher levels. GreenBiz's 2011 salary survey found that two-thirds of VP of Sustainability roles at large organizations are held by men – and it will surprise few readers to find that there was a 20 percent pay gap between men and women at the highest levels of sustainability.
Yet, the connection between gender diversity and CSR runs deep. Study after research study has found that simply having an executive team with gender diversity is highly correlated with having a strong CSR performance – even when those women aren't working in CSR.
And of course, despite the statistics, we've come across a number of inspirational women slowly but steadily inspiring sustainable change. Here are 35 of them.... http://www.triplepundit.com/2013/01/women-in-csr/