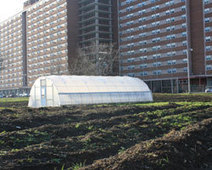 Jan 14, 2013 E-MAGAZINE
A new crop of programs for even the most inexperienced would-be farmers.
A back-to-the-land movement has seized Generation Y, as young Americans ditch cubicles for the earthier vocation of growing food. Not only did a recent documentary, "The Greenhorns,"(profile young poople who have taken farming as their occupation, it also counted them: 6,000. There are probably many more...
But how does someone trained as, say, an accountant learn to run irrigation systems or save seeds for next year? He or she goes to school—and not necessarily at sprawling land-grant universities, as in generations past. Increasingly, would-be farmers are electing to attend one of the non-academic "farm incubators" popping up nationwide. It 's an important, if subtle, change in how agricultural knowledge is handed down. http://www.emagazine.com/blog/boot-camp-for-farmers/