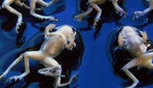 A 2009 far-reaching investigation into America's great waterways. They are in peril. There's a new wave of pollution that's killing fish, causing mutations in frogs - and threatening human health.
http://www.pbs.org/wgbh/pages/frontline/poisonedwaters/
Note from @pdjmoo: Although this was produced in 2009 it is an important wake-up call and the risks are still obvious today. Corporations MUST take responsibility for the toxic results of their products that end up in our environment and are impacting both human and environmental aquatic health. All species are dependent on water and waterways for survival. As so many products are made with a base of "water", we need to know what we are drinking in the final products. We can no longer make excuses or justifications for the havoc these pollutants are creating for a sustainable life on our planet. The "green-washing" must stop....
31 October 2012: You'll Never Eat Crabs Again: Barry Levinson's eco-freakout 'The Bay' | Grist http://grist.org/food/youll-never-eat-crabs-again-barry-levinsons-eco-freakout-the-bay/